23 September 2021
The importance of handwashing for children
Children are developing their immune systems until they are in puberty, which makes them more likely to get various illnesses, diseases, and infections. Nevertheless, contacting different bacteria and germs will help children to boost their immune systems and to become more resistant to illnesses and diseases when they are older. But to reduce the risk of getting heavily sick, hygiene is still extremely important. One of the important things to instruct your child is to have a good sense of hygiene by washing hands regularly and well. In this article, we give you step-to-step guidance on how to wash children's hands properly.
Handwashing is important 
The importance of handwashing for children cannot be emphasized enough. Children discover the world with their hands. They play, eat and touch everything with their hands. This results in children getting in contact with germs every single day. These small germs are the cause of some of the most dangerous diseases and illnesses that can occur in children. Washing their hands in a proper way can help to stop the spread of many illnesses – from the common cold to more serious illnesses like hepatitis A. Handwashing is easy, inexpensive, effective, and can help prevent sick days and trips to the doctor! 
How do these small bacteria spread? 
Before learning the right technique on how to wash your children's hands, it is important to understand the ways bacteria can spread. The following is a list of the most common ways in which bacteria spread to your child through touch. 
The most common way bacteria can spread to your child is by touching dirty surfaces. Common surfaces such as floors, computers, bathroom facilities and even door handles that are shared by many individuals can become breeding grounds for bacteria. 
Arte Viva offers a hand-free door opener to prevent the spread of bacteria. The hands-free door opener enables you to open and close doors with the forearm instead of bare hands.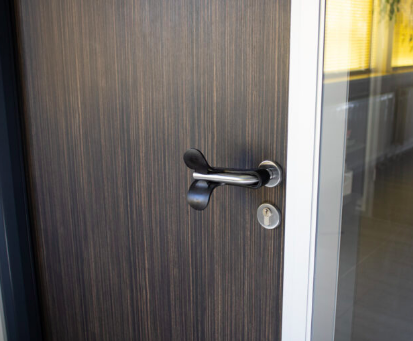 All kids like to play outside in the dirt but this causes bacteria to be spread.  
If your baby is still wearing diapers, it is quite common that their hands run on and sometimes even inside the diapers. This can be another source of bacteria entering the child's body. 
Bacteria commonly spread when your child touches someone who is sick or is about to be sick. Especially in kindergartens or schools it is quite common that children get sick by others.  
The before/after situations when kids should wash their hands 
Children need to wash their hands various times a day – this is especially required during, before, and after certain activities like: 
Before/After a meal 
After playing in the dirt 
After waking up 
Before going to bed 
After playing a sport 
After blowing their nose 
After going to the toilet 
Whenever hands are visibly dirty 
After coughing or sneezing 
After throwing away your tissue 
After touching animals, such as family pets or at petting zoo 
Before/After cooking 
After coming home 
How to encourage children to wash their hands? 
Teaching children handwashing at an early age is an effective way to encourage a lifelong habit. Make your child feel good about hand washing by trying it to fun activities such as snack time and cleaning up from arts and crafts. Have your child practice counting or singing a song while they wash their hands, to make sure they do not rush. Colorful soap can be extremely exciting for kids as well.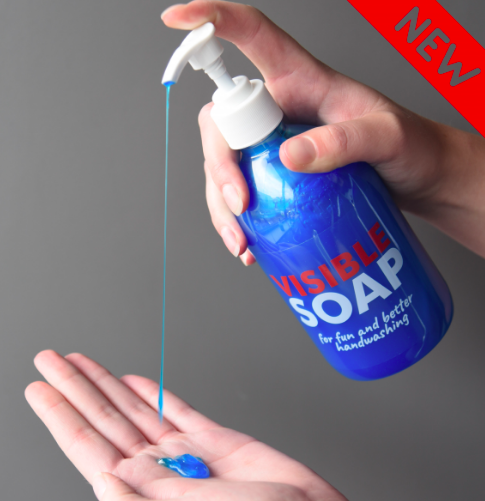 Discover our fun and visible hand soap from Arte Viva. The pearl blue color helps to ensure that you do not forget to wash any part of your hand; it stays visible on the hands until washed off fully.
Step-by-step hand washing
The following step-to-step guidance explains how to wash hands in a fun and correct way:
Turn on the water 
Wet your hands completely with water 
Dispense soap into the palm of one hand 
Scrub all surfaces of the hand, including between the fingers, under the nails and wrist 
Lather for about 20 seconds –> follow our Arte Viva Handwashing Song for the right guidance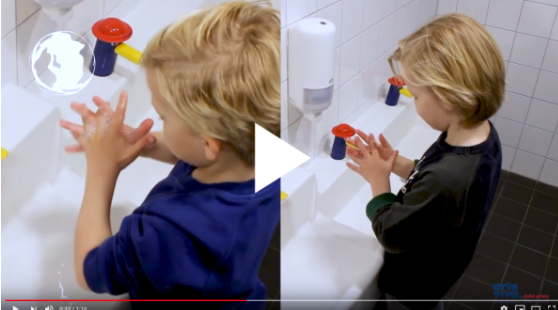 Rinse hands under running water 
Dry hands with a clean paper towel  
Turn off the water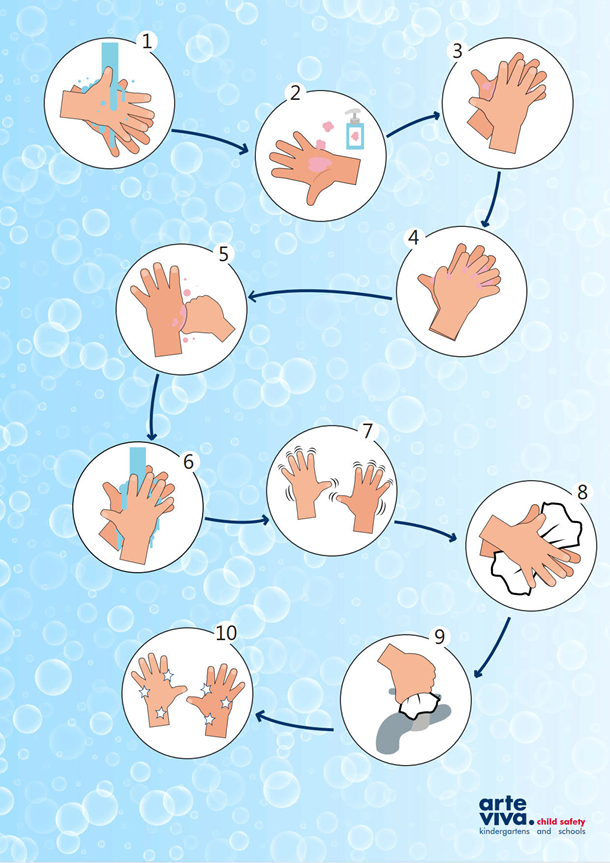 The steps for handwashing are according to the guidelines of the Dutch public health service. We have incorporated this advice into the song.
You can print the instructions and lyrics of the song and hang them above the tap. Feel free to share!
Do's while teaching children about handwashing 
There are some points to consider when teaching a child any habit, especially about hygiene. Here are a few things that you should be doing when teaching kids to wash their hands. 
Make it fun 
Reward your child 
Compliment your child 
Washing baby`s hands 
When you are incorporating hand hygiene for children, consider their age. Washing a baby's hand is quite different from washing an older child's hands. 
Use a warm wet towel to clean your baby's hand 
Lather baby soap on their hands gently 
Use another fresh, warm towel to clean the soap off 
Soak their hands in a bowl of lukewarm water 
Wipe with a dry cloth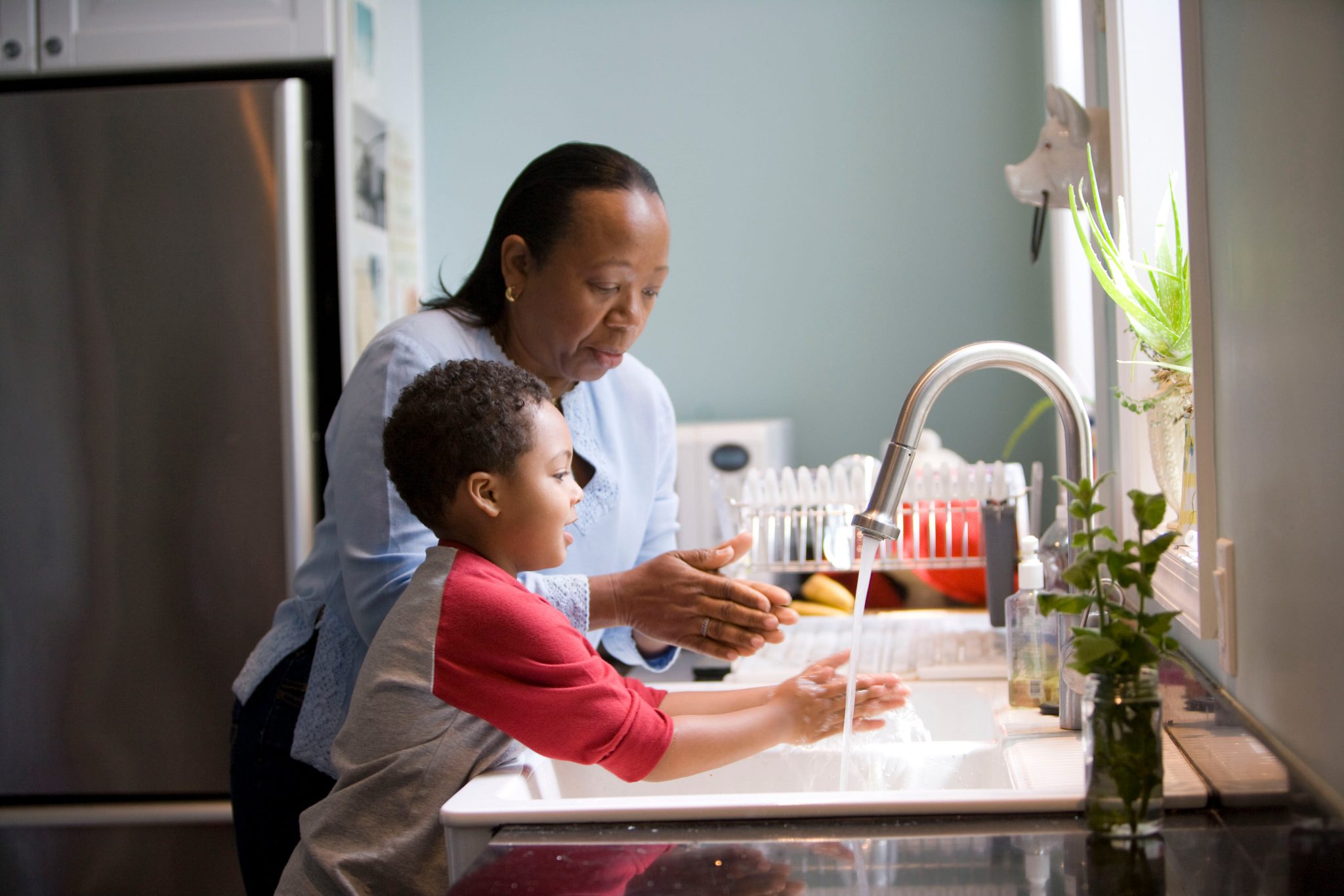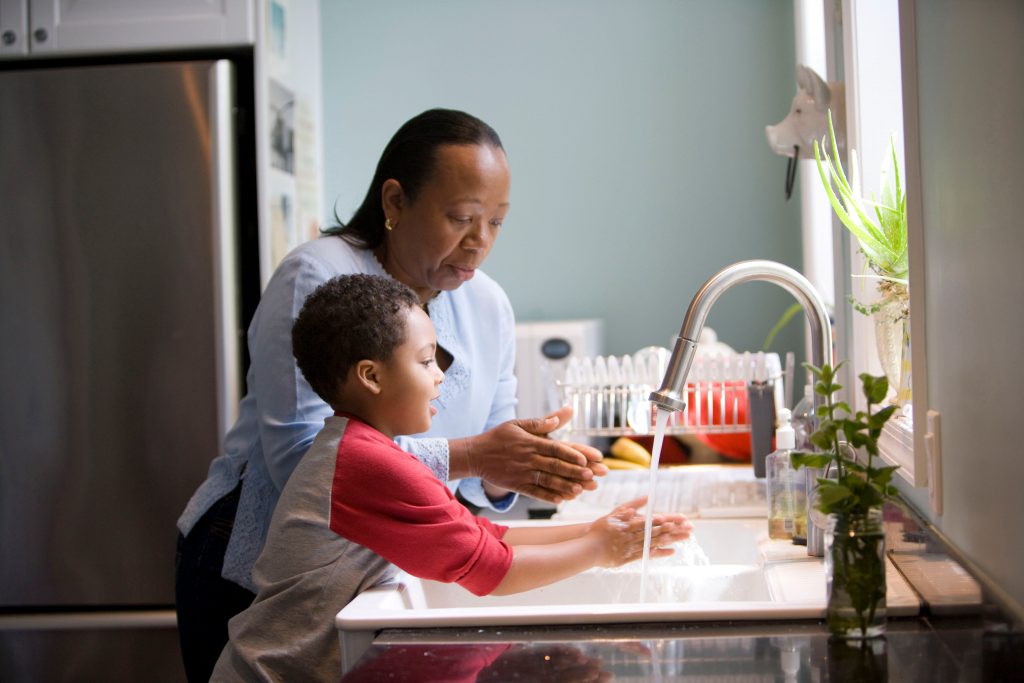 Discover our hygienic bundle consisting of visible soap and the hand-free door opener from Arte Viva. Arte Viva provides more child safety solutions for the professional market. Use our solutions to prevent severe injuries to children from pinching fingers in doors, bumping into walls, pillars, and corners, or falling out of the window. See our whole product range here. Stay safe! 
Questions?
We are happy to help you choose the right solution. Contact us for more information or request a quote without obligation.