17 May 2022
Cooking with children – child safety in the kitchen
From an early age, children love to help around the house. Whether it is cleaning or cooking. Small children are great followers and are incredibly happy when they can support their parents. Especially the kitchen is an interesting place for children, so you should teach children to cook safely.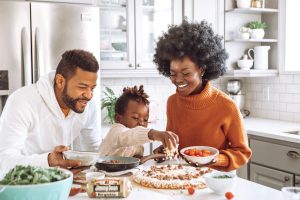 Below you can read the 7 most important safety tips in the kitchen:  
1. Safe cooking with young children
Especially the little ones often want to make themselves useful and help in the kitchen. But often they are still too young to be able to cook properly. To support their curiosity anyway, they can help to put the cutting board down, turn on the food processor or wash the vegetables. Working in the kitchen not only develops motor skills, but also strengthens family bonds. 
2. Safe stove position for children
It is best for children to stand on a non-slip step at the stove, so they have a pleasant view and do not get hit by hot splatters from the cooking pan.  
3. The right tools for child safety
Make sure children use the right tools for their little hands in the kitchen, which are best sized to fit children's hands.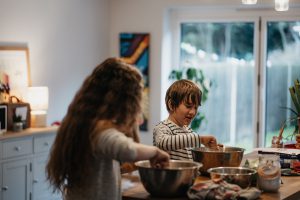 4. The right way to handle knives
Older children are becoming more interested in cooking and therefore want to do the cutting, slicing, or grating. However, this should be learned calmly and practiced together to prevent bad cuts. It is best to learn the correct and safe use of real kitchen knives under the guidance of parents or teachers.  
5. The correct use of kitchen appliances and electricity
All electrical outlets in the kitchen and throughout the home should be equipped with child safety fuses and residual current circuit breakers, also known as ground fault circuit interrupters. In addition, kitchen appliances should be kept away from water and preferably out of reach of small children.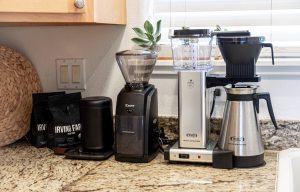 6. Beware of hot and heavy pots
When children are gaining their first experience at the stove in the kitchen, it is essential that parents help so that scalds are not risked in the first place when handling heavy pots and hot water or oil.  
Children should learn from the start that pots and pans should always be placed on the stove with the handles not above the hot plate. In addition, the handles should always face the wall or shelf when cooking so that children do not get caught on the handle and drop the heavy pan and its hot contents on top of it.   
7. Child safety at the oven
When opening the oven door, always keep your distance, otherwise younger children, given their height, will get the hot steam directly in their faces.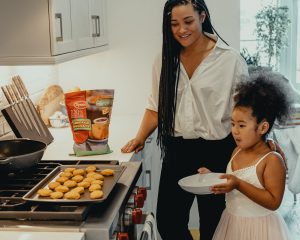 Why is cooking together with children so important?
Although the kitchen is one of the most dangerous areas for children in the house, it is important that children learn to cook together with their parents. Children learn a lot from doing things together around the house. Children should be involved in the kitchen routine as early as possible and include themselves in the activities.   
Checklist: Childproofing the kitchen
The kitchen is full of fascinating "toys" for children. The best way to prevent an accident and injuries here is to immediately put away dangerous appliances and kitchen tools.  
Keep sharp knives out of reach

 

Put electrical appliances in a locked cabinet

 

Do not let plugs of electrical appliances hang down

 

Keep cleaning supplies in a lockable cabinet in the kitchen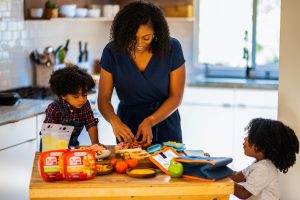 Kitchen utensils to play with
Leave some discarded and non-hazardous household utensils for your child to play with. This will make the child less interested in the forbidden items. Child-safe utensils include spoons, bowls, or cans.   
 Involve your child in cooking in the kitchen, but make sure the biggest hazards are out of the way beforehand so your child can safely learn new things. 
Arte Viva
Our company is all about creating a safe environment for children to play and develop in. Therefore, the overall child safety is very important to us. To learn more about our child safety solutions, read our blog and view our product range to create a safe world for children.