21 June 2023
Choosing the Best Finger Pinch Guard for Child Safety: Finger Alert or Rollo?
Child safety is a top priority for parents, teachers, and caregivers, and finger pinch guards for doors play a crucial role in preventing accidents. With so many options available in the market, it can be overwhelming to choose the right one. In this article, we will compare Finger Alert pinch guards and Rollo pinch guards to help you make an informed decision.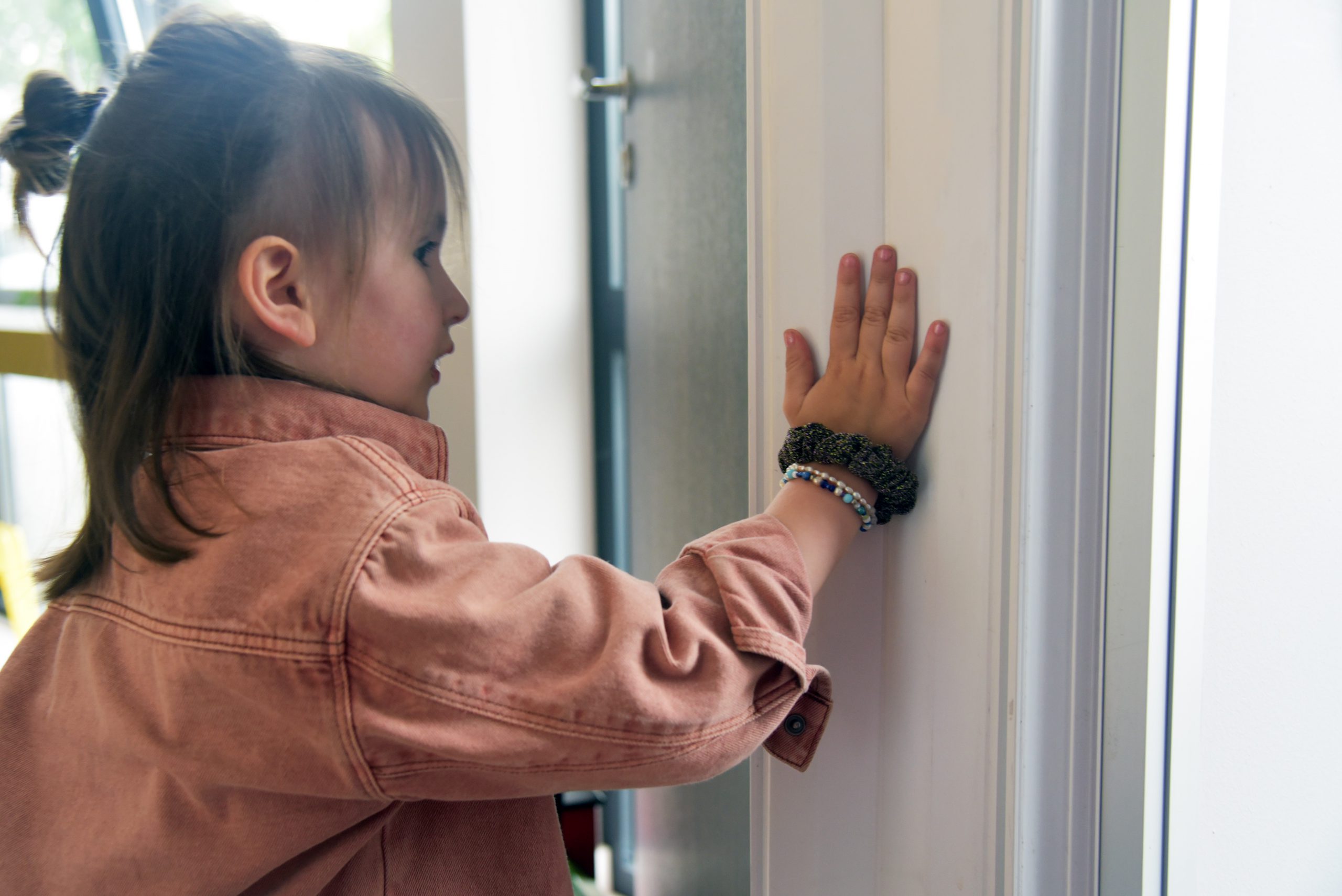 Why Install Finger Pinch Guards on Doors?
In their early years, children are curious and love to explore their environment, which often leads to their fingers getting trapped between the door and the door frame. This can cause serious injuries that require medical attention. Research shows that thousands of accidents occur annually due to finger entrapment indoors. The finger pinch guard is a protective shield that covers the opening on the hinge side of the door, and it can prevent such accidents from happening.
Regulations for Finger Pinch Guards
In Germany, the Statutory Accident Insurance (DGUV) has prescribed specific regulations to prevent trapped fingers in kindergartens, and finger pinch guards are the best way to achieve this goal. EN 16654 sets out the requirements for testing and certification. In some other countries, such as the Netherlands, finger pinch guards have also been made mandatory in kindergartens, and the number of visits by children to hospitals due to finger entrapment in doors decreased by an incredible 40% between 2008 and 2014 after the implementation of this regulation.
Comparison of Finger Alert Pinch Guards and Rollo Pinch Guards
There are two main types of finger pinch guards: Finger Alert and Rollo pinch guards.
Rollo pinch guards are well known for their compact form and modern aesthetics making them easily distinguishable. As a competitor in the Klemmschutz market, we must acknowledge the impressive success of Rollo Klemmschutz in becoming the standard in Germany. The innovative design has set it apart, delivering an advanced product that customers have come to trust and rely on.
Even though Finger Alert pinch guards can be an actual improvement to Rollo pinch guards in terms of affordability, ease of installation and most significantly safety. The Finger Alert Professional by Arte Viva is an example of a Finger Alert pinch guard that has been tested and certified to withstand a finger push of up to 50 newtons. In contrast, a Rollo pinch guard can't even resist a finger push of 25 newtons, as tested by the SKG-IKOB in 2019. Key here is that Children between the ages of 2-4 years have an index finger push force of 25 newtons with a range of up to 38 newtons as tested by the Consumer Affairs Division of the Department of Trade and Industry in 2002.  This means that Rollo guards can create a false sense of security.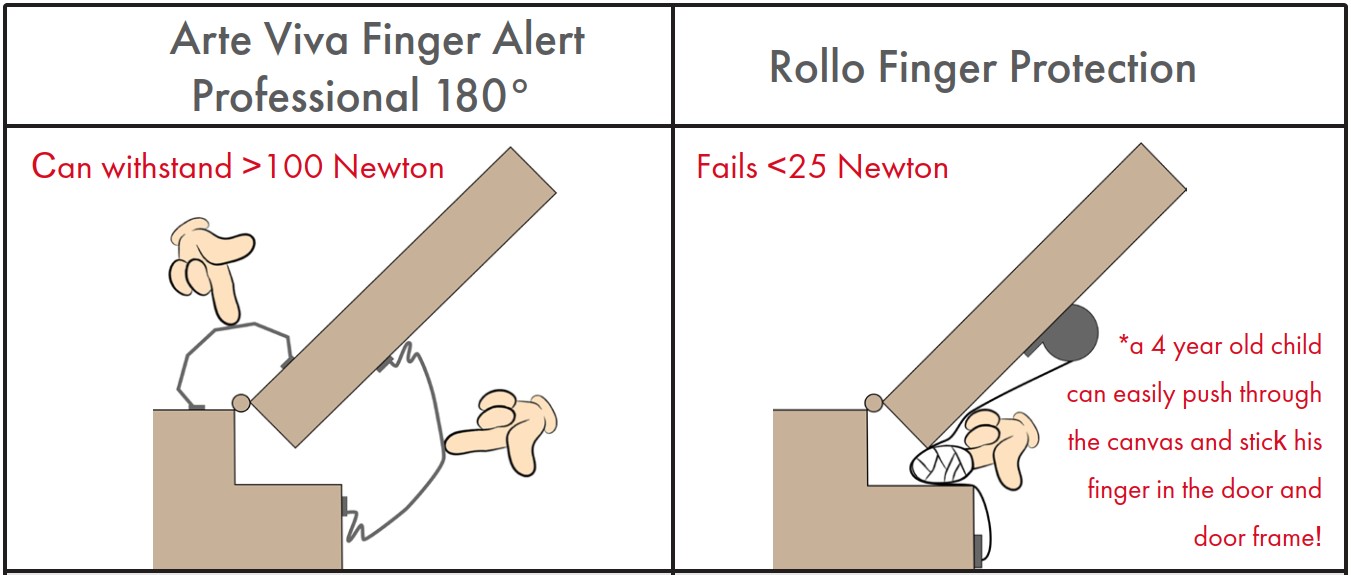 Another advantage of Finger Alert pinch guards is their affordability. While a single Rollo pinch guard can cost around €100 or more and only covers the gap side of the door, the Finger Alert Professional covers one side for €40 or both sides of the door for less than €60. With the cost of 100 Rollo guards, you could save more than €6000 and invest in other educational items.
Moreover, Arte Viva finger jam protectors cover the entire length of the door, making it impossible for even crawling children or babies to push their fingers beneath the otherwise flexible cloth. The Finger Alert Professional has also been tested and certified for 1 million opening and closure test cycles, just like the Athmer.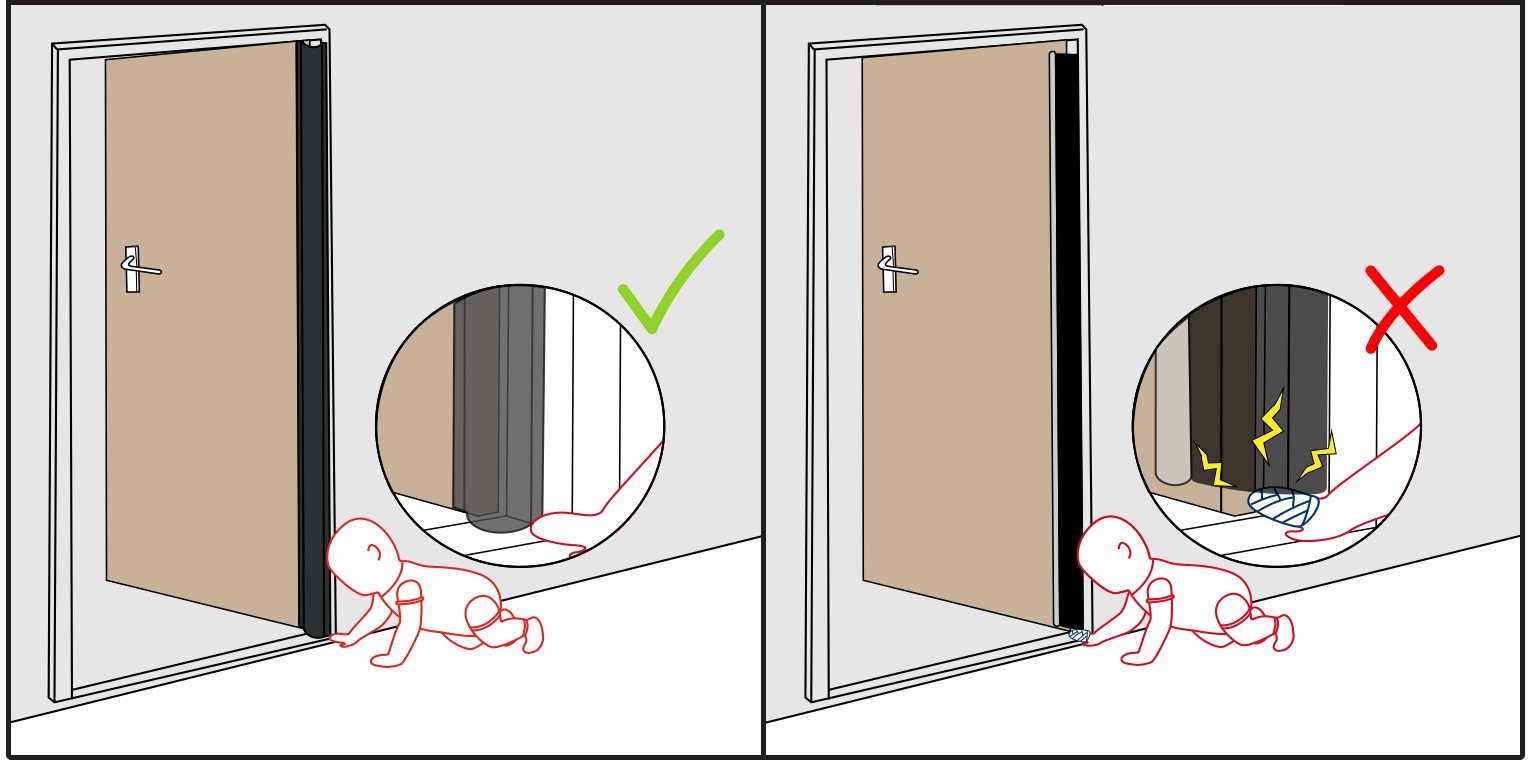 Installation time is another important factor to consider, as the installation of other Pinch guards can take up to 15-20 minutes per strip, whereas the Finger Alert Professional takes only 5-7 minutes per strip. The time and labor cost difference for installing 100 door strips can be significant.
Conclusion
The Finger Alert Professional by Arte Viva is a cost-effective and safe solution for child safety in kindergartens. With its affordability, ease of installation, and improved functionality, you can save money and invest in other educational items while ensuring the kids' safety in your care. Don't wait until it's too late to prevent finger-trapping accidents. Choose Arte Viva's Finger Alert Professional and give your children the safe and secure environment they deserve.
If you have any questions or would like to learn more about our offers, please don't hesitate to contact us. We take pride in the quality of our products and are confident that you will be satisfied with your purchase. To experience our products firsthand and substantiate our claims, we would be happy to provide you with a free sample.
Arte Viva is dedicated to reducing accidents in kindergartens by offering a range of safety solutions, including child-friendly radiator covers, protection for walls, pillars, corners, and acoustic clouds. Implementing these solutions can provide a safe and child-friendly environment for kids to play.