10 November 2021
20 Sustainable tips in kindergartens and schools
Children spend most of their time in kindergartens and schools. Therefore, it is important to create a sustainable environment in schools and kindergartens to tutor children more about saving the planet and the environment. There are many ways to make a school and a classroom greener. In this article, we will present you with 20 sustainable tips for a greener kindergarten. 
1. Install solar panels 
Installing solar panels is the perfect first move to make a kindergarten or school more sustainable. It is an investment that will be pricey at the beginning but over a certain period, solar is the cheapest energy source and saves a lot of money.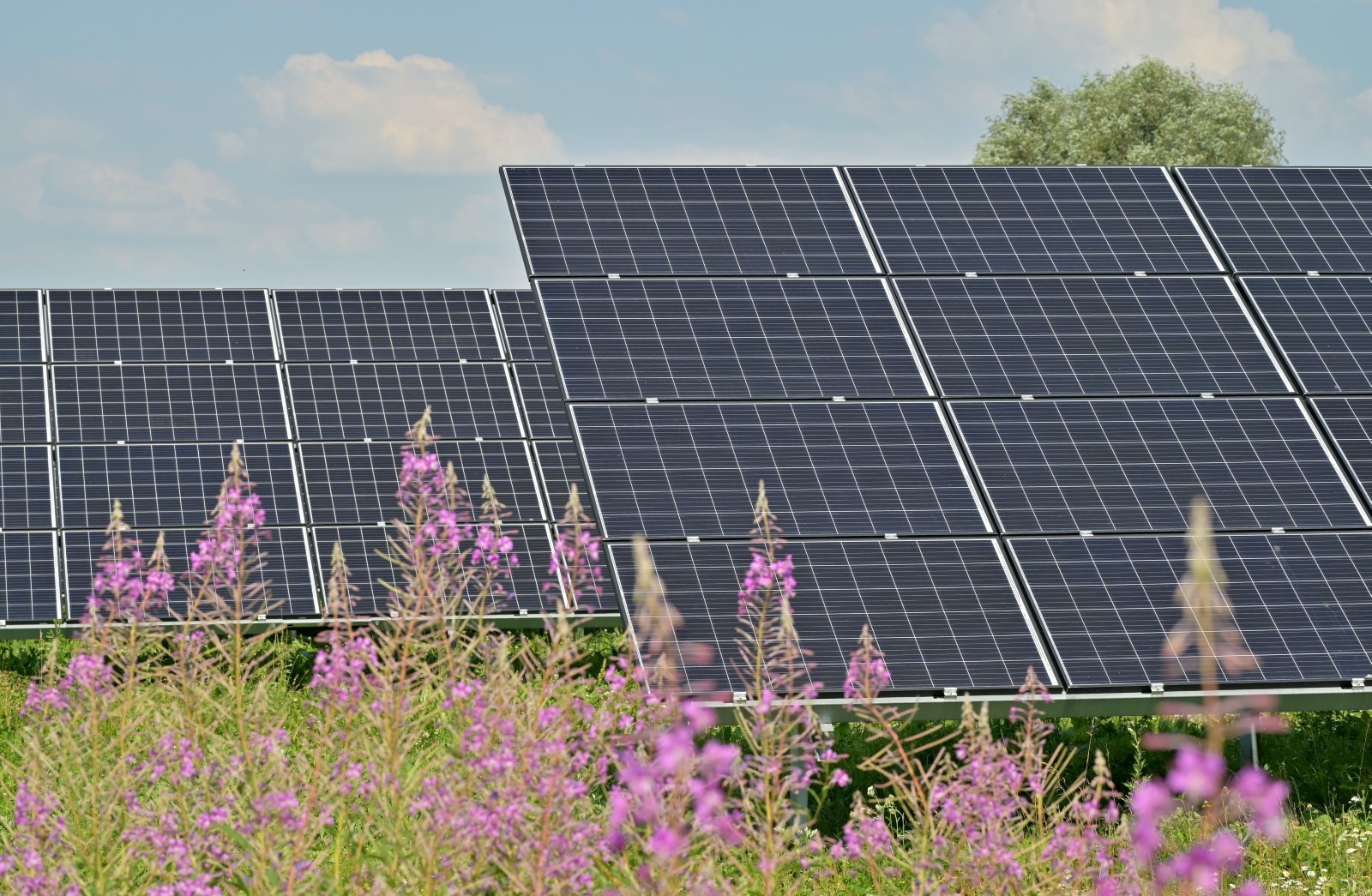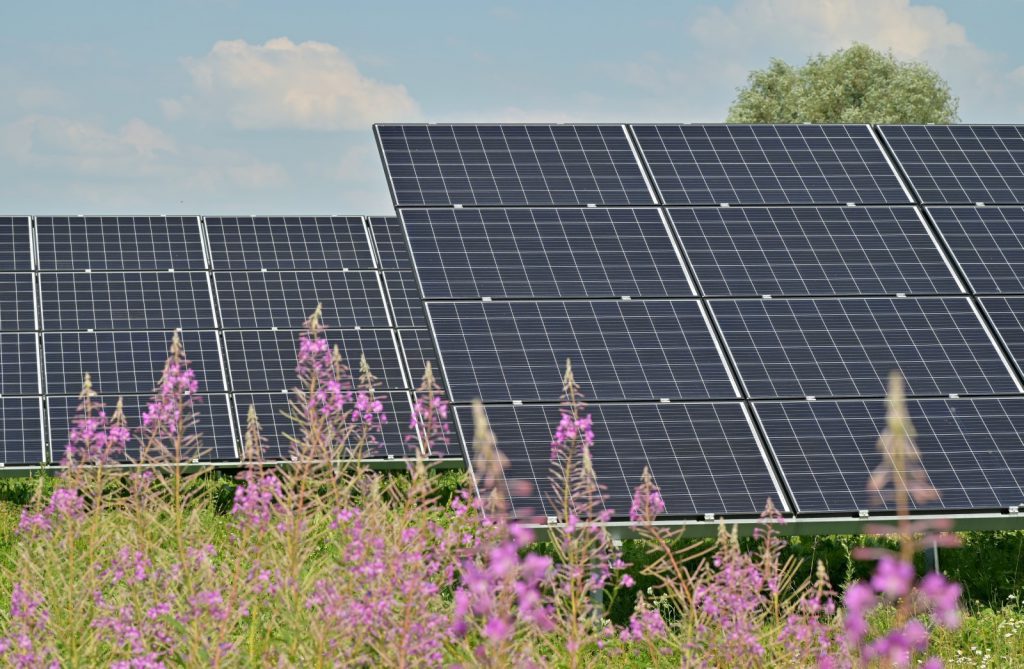 2. Grow a garden 
By growing their own vegetables at school, children will learn more about all sorts of vegetables, gardening, and soil. This is a fun activity to do as a class that includes thoughtful insights for each child.  
3. Take the bike 
Instead of going by car or bus, children can take their bikes to go to school. This is a fun and healthy transportation opportunity that benefits the earth. When going to kindergarten, consider walking or taking a bike with a child-safe seat. Read more in our 5 road safety tips for children blog.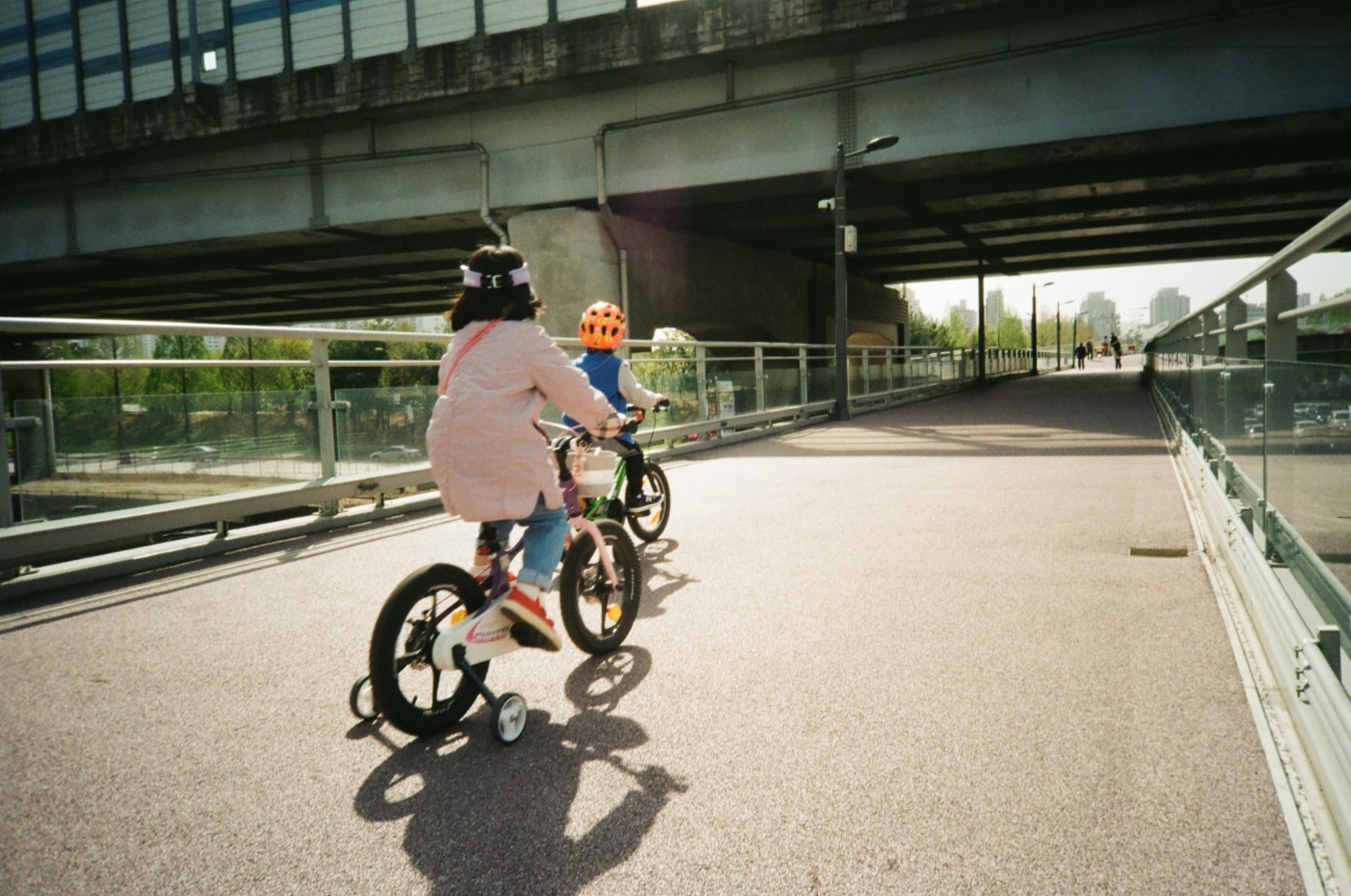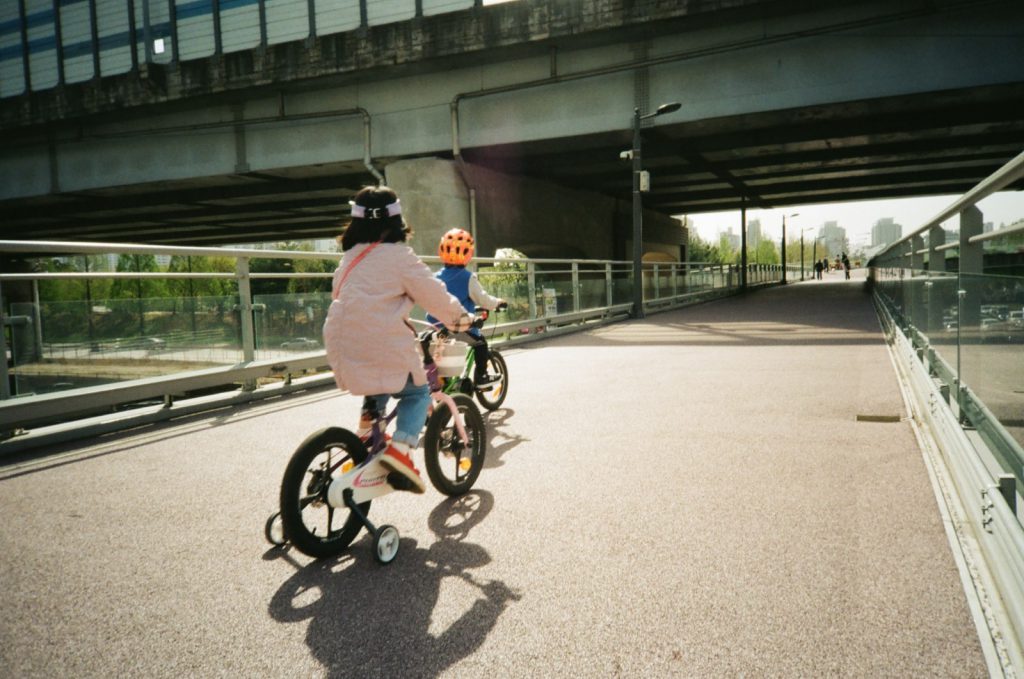 4. Make use of rainwater 
Especially here in the Netherlands, there is a lot of rain that can be used in many ways. Kindergartens and schools should install rain barrels to collect all the rain. This water can then be used for watering the plants.  
5. Use natural light 
Sunny natural light does not only increases your mood but also improves productivity. Vitamin D gets into your system and at the same time it heats up the room while it saves expensive energy costs that are bad for the environment.  
6. Replace old light bulbs 
New light bulbs save lots of energy. Therefore, we highly recommend you switch old lights to LED lighting.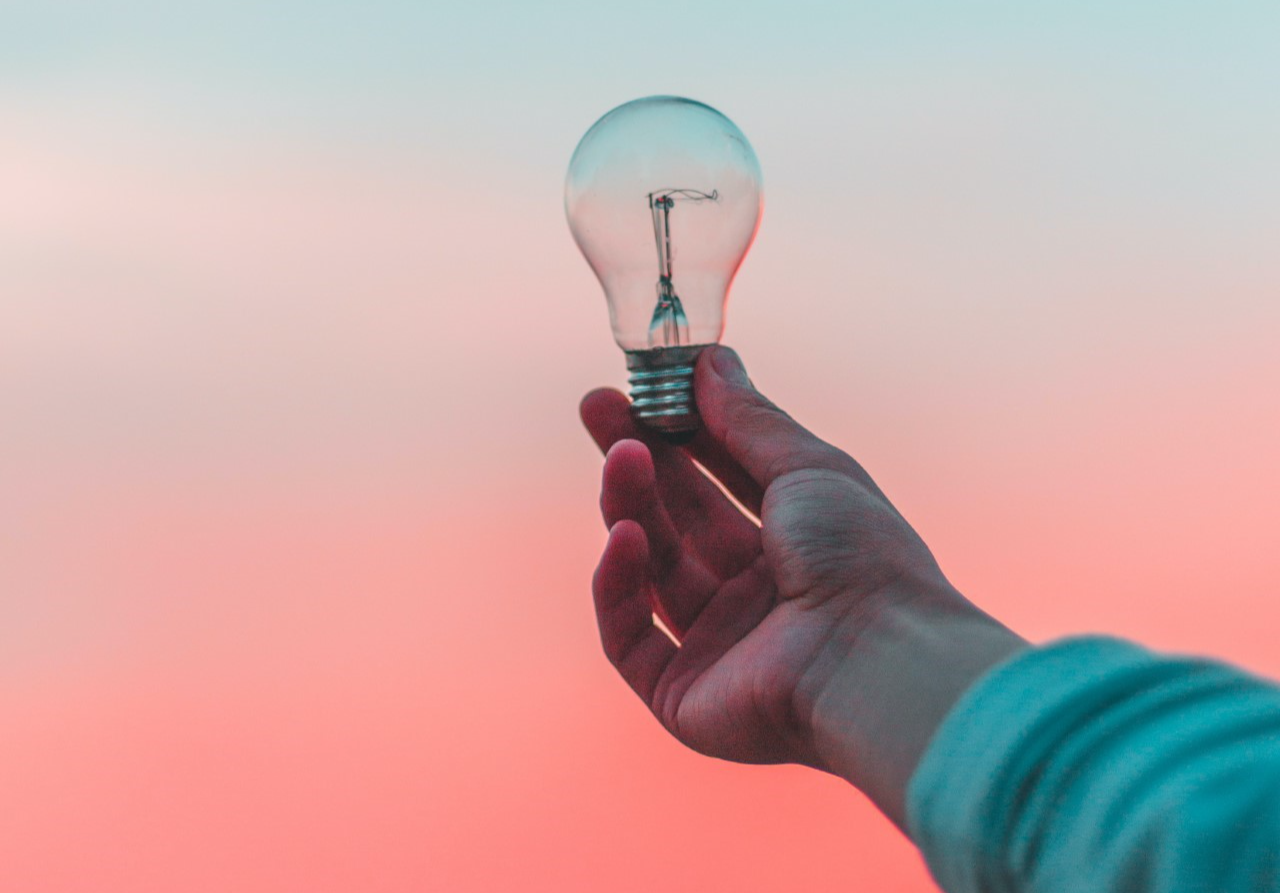 7. Establish a green club 
Collect a couple of students who are interested in making the school more environmentally friendly and who want to learn more about sustainability. Together as a green club, children can actively participate with ideas to make a school more sustainable.  
8. Redesign recycling bins 
Recycling correctly is especially important and therefore we recommend that children learn more about it from an early age. An enjoyable way to teach them is by letting them design the recycling bins. Let them be as creative as they like. 
9. Trash pick-up day 
Schools and kindergartens can implement a trash pick-up day once a week for their activities. Children can go on a walk with their teachers and collect as much trash as they find. This not only cleans the environment but also makes children aware of how much trash is around them.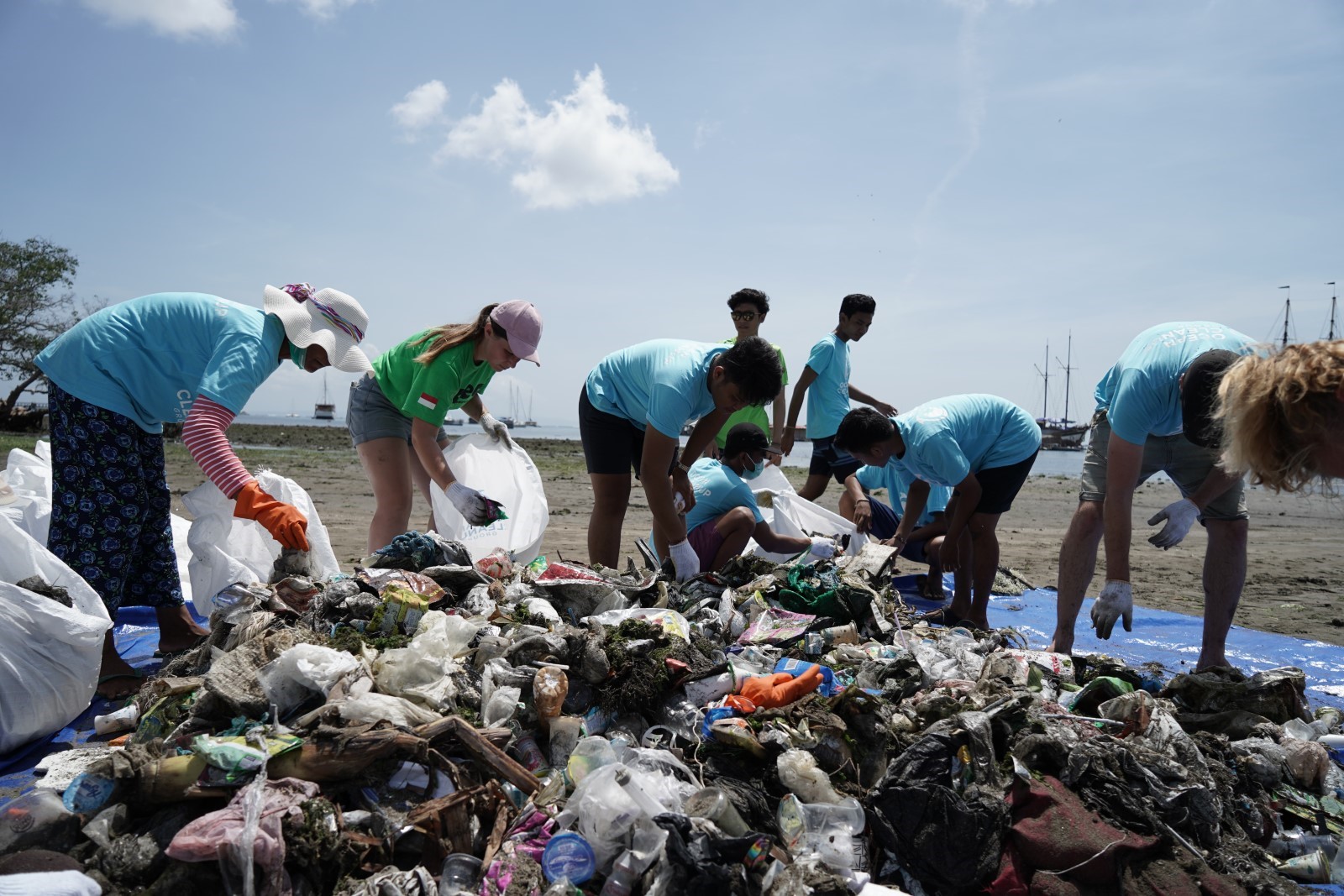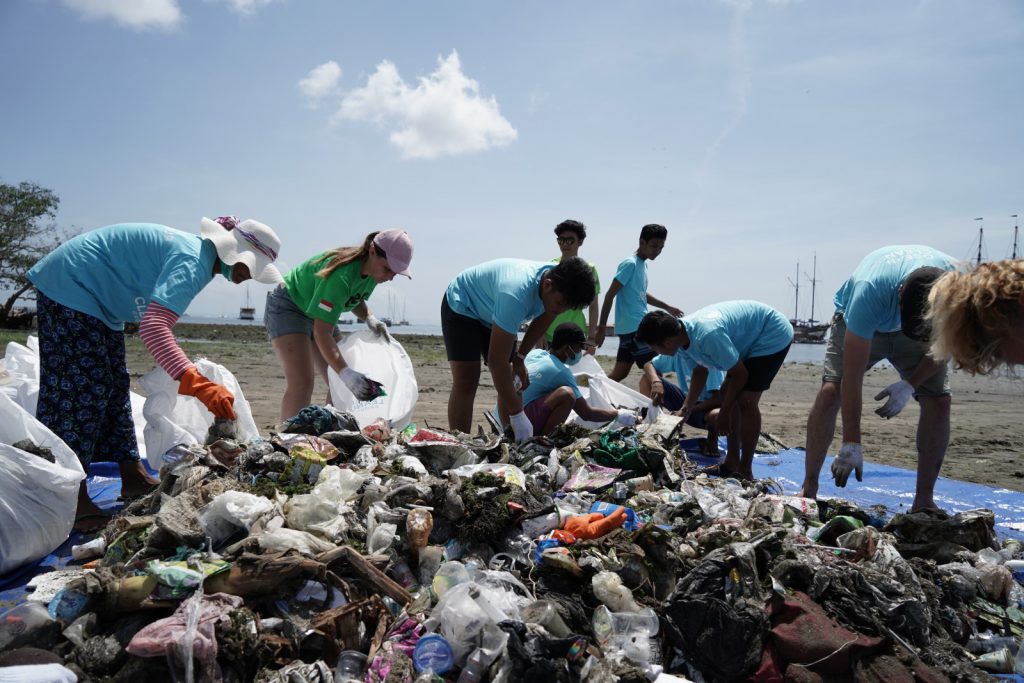 10. Indoor plants 
Having plants inside the classroom is not only nice to look at but also helps purify the air and provides health benefits, like fewer cold systems. When you want to add indoor plants in a kindergarten make sure that the plants are out of reach for smaller children.  
11. Educate children about sustainability 
Children need to understand why they are doing all these things. Therefore, you need to educate them on how to be sustainable and why it is important in a child-friendly way. 
12. Eco friendly craft supplies 
Nowadays there are many eco-friendly craft supplies children can use. Check your local craft supplier for eco-friendly alternatives.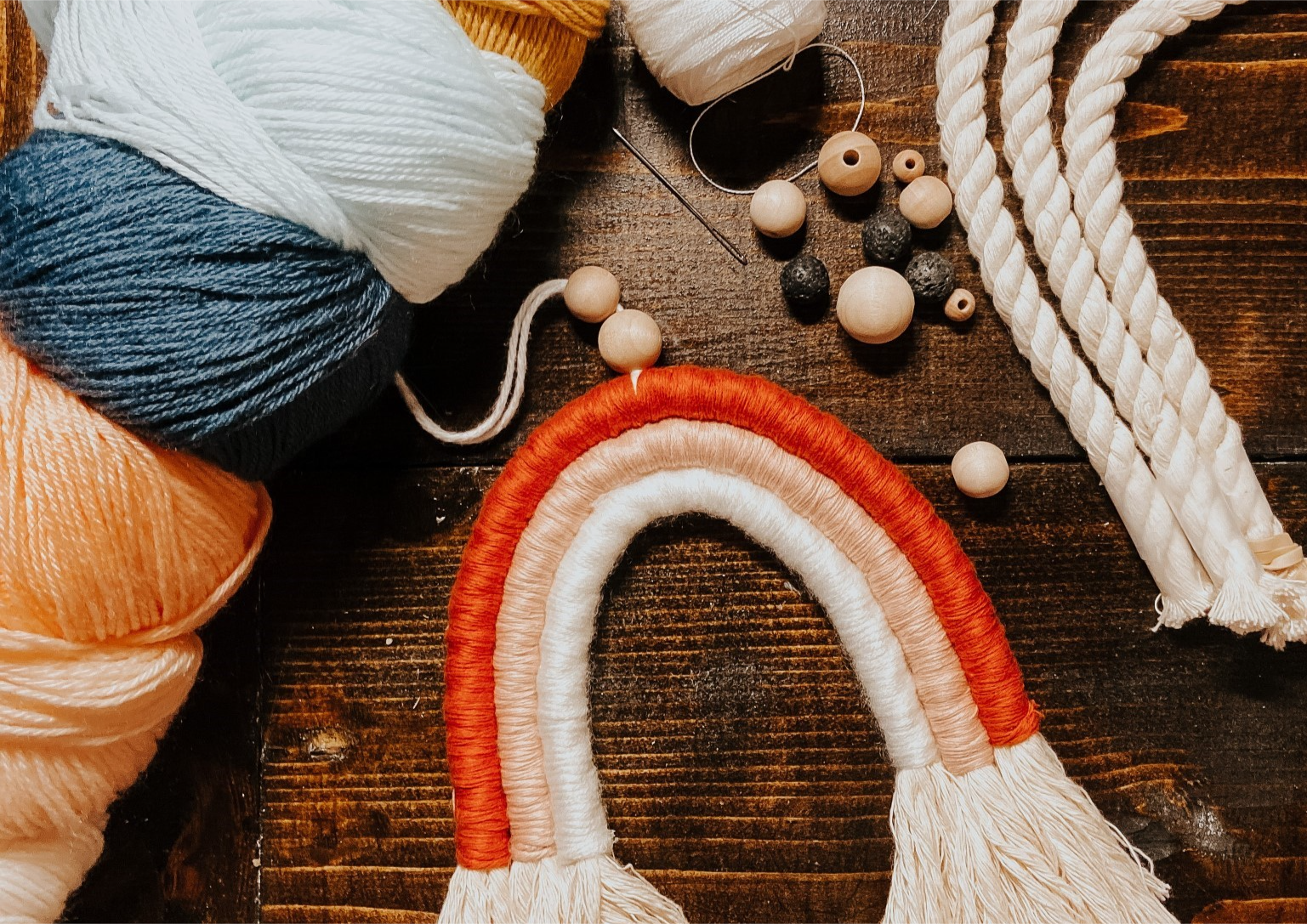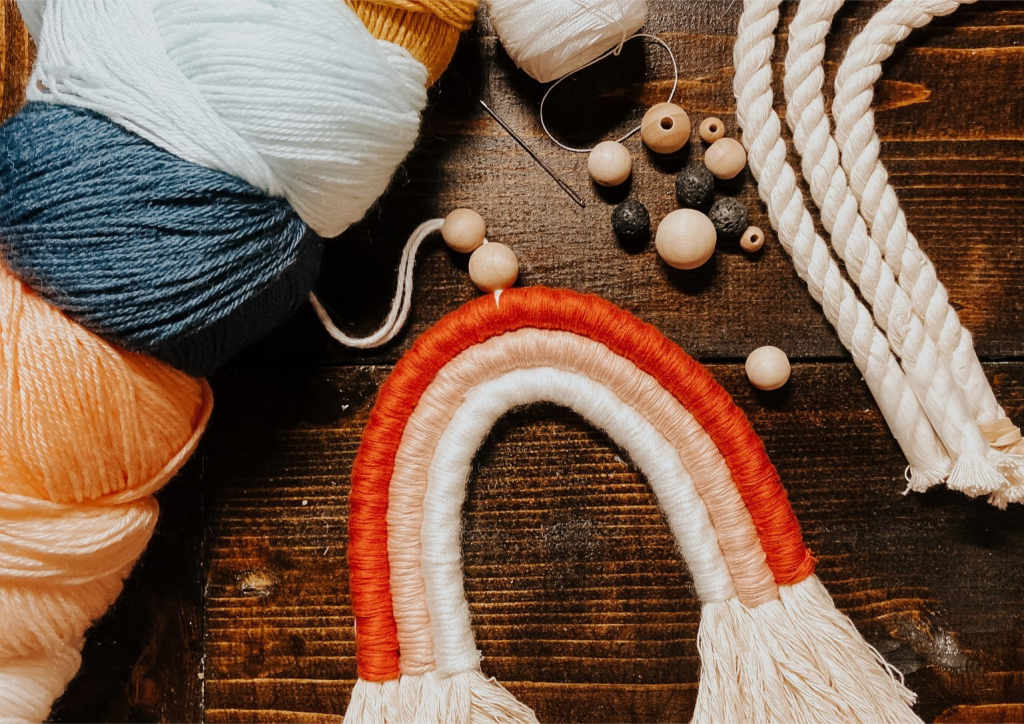 13. Recyclables for art projects 
Tin cans, bottles, unwanted paper, or bottle caps are perfect utensils for an incredible and outstanding art project. Be creative and upcycle! 
14. Read books about the environment 
Children love to read and therefore schools and kindergartens should include books about the environment in their reading, such as Climate Change for Babies or Old enough to save the planet.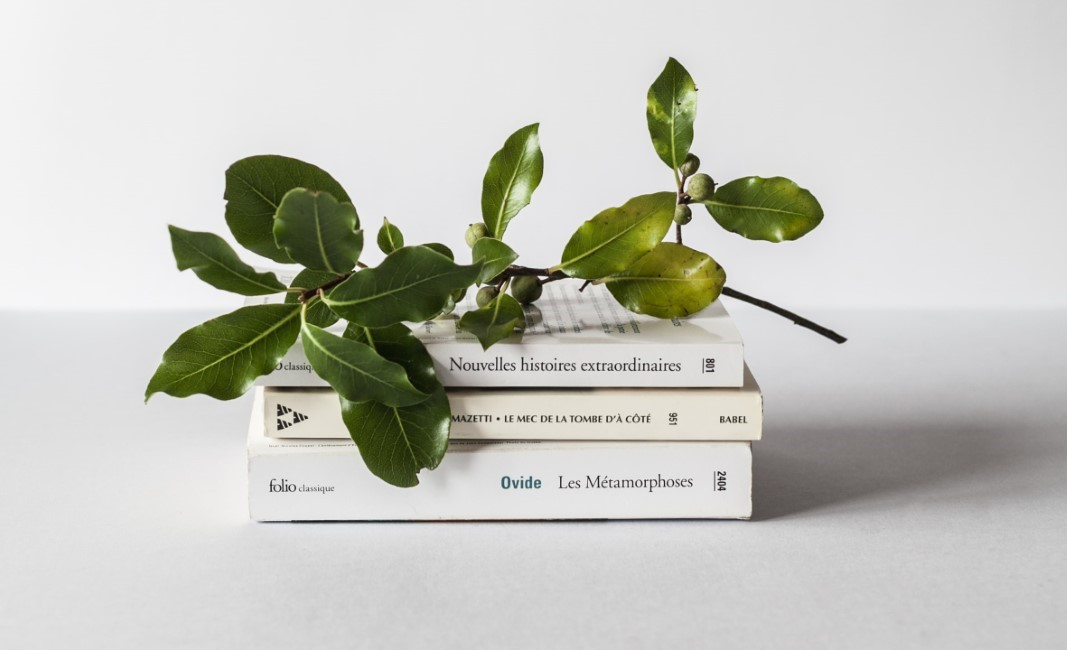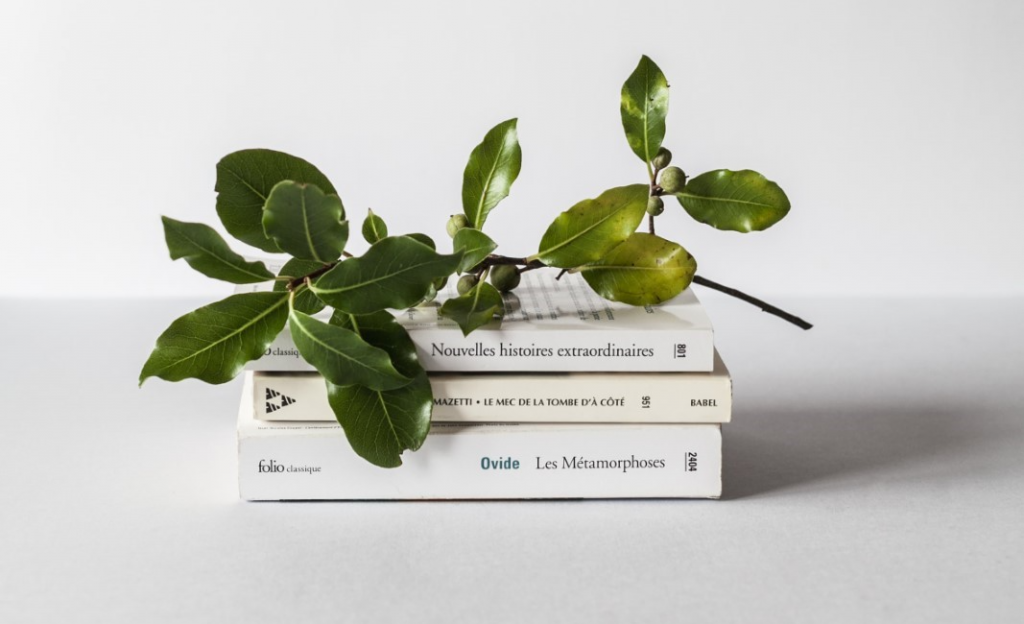 15. Reuse material 
When it comes to reusable materials, children are highly creative. Plastic bottles can be turned into plant containers or old cans can be used to design animals to play with. 
16. Organic food and drinks 
Supply your kindergarten and schools with local organic food and drinks. By doing this you do not only support your locals but also keep the environment clean.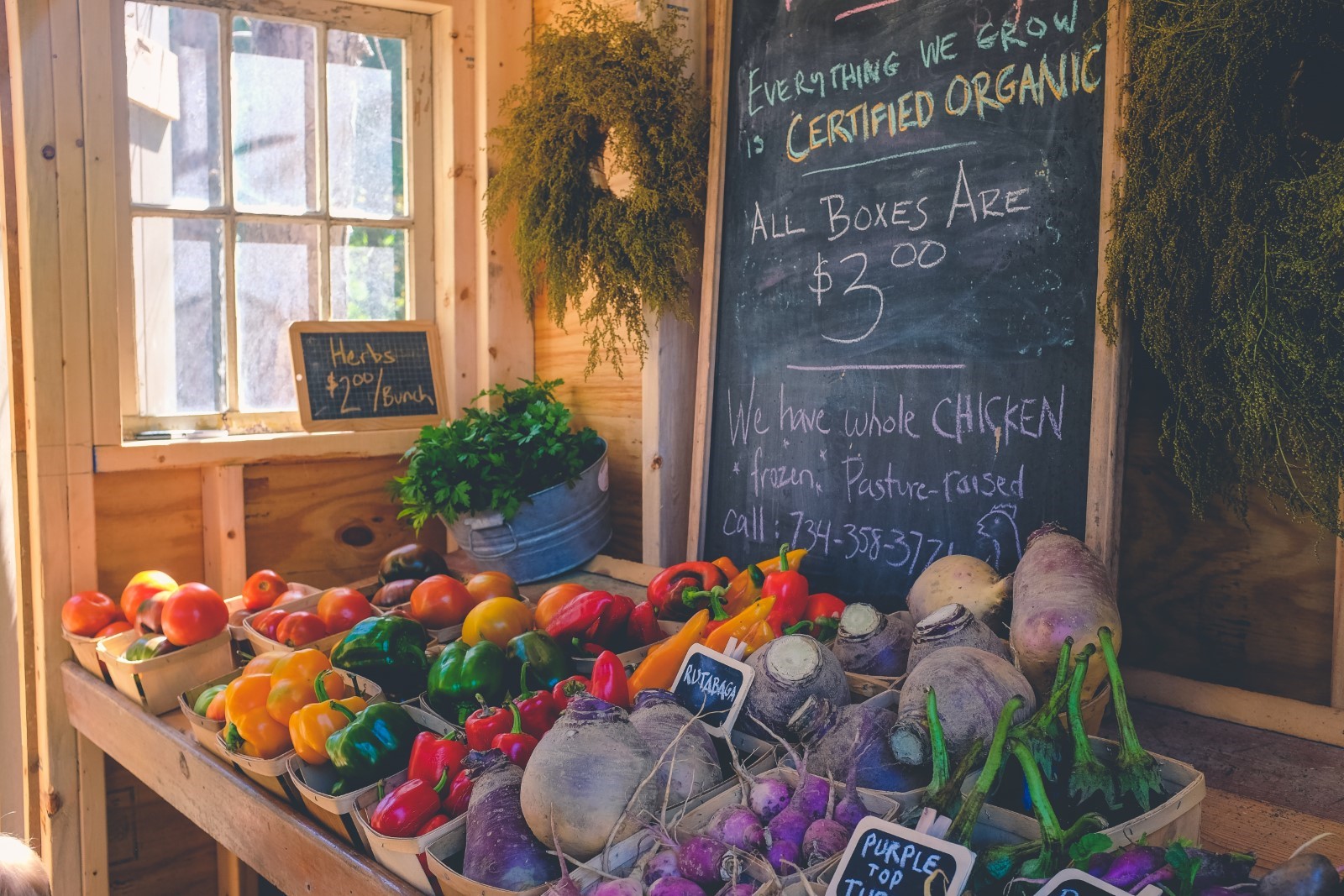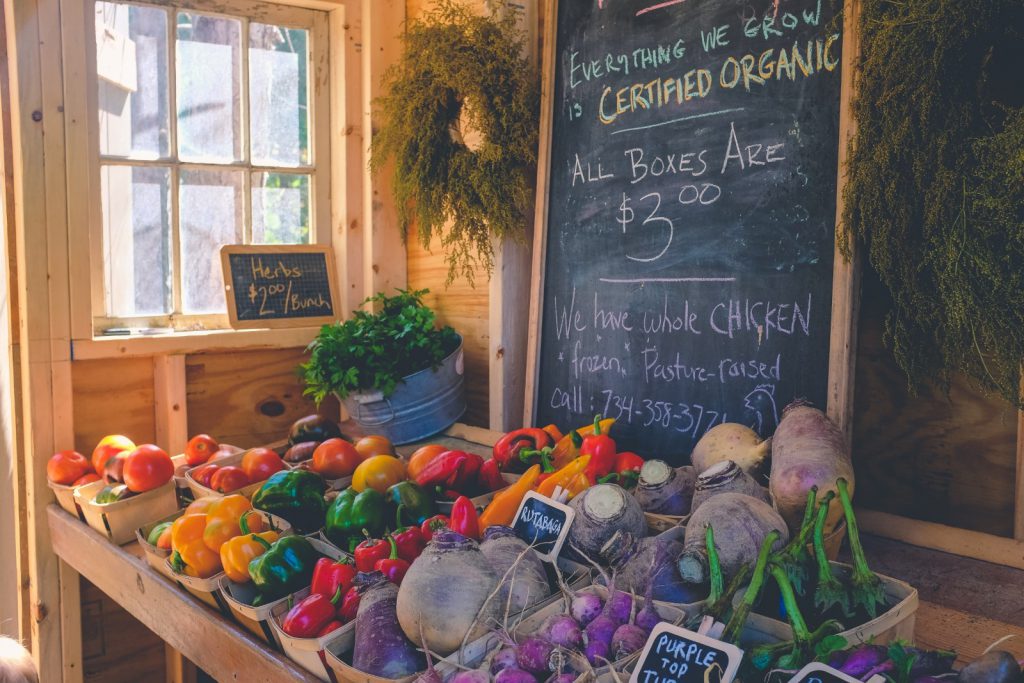 17. Use sustainable furniture 
Sustainable furniture is made from materials that have certain eco-friendly characteristics. These materials are often recycled or repurposed.  
18. Building a new kindergarten 
New kindergartens nowadays are often built after bio-ecological principles. This means that all the materials and energy concepts that have been chosen to have the least impact on human health and the environment. The structure of the building is made from a wood frame that is filled with lime and straw hemp. Afterward, the constructions are finished with lime plaster. This is beneficial as the wall has a long-life span and needs limited maintenance. 
We would like to introduce you to the concept of the green school. The Green School is a school without any walls, a campus that lightens the senses and the natural curiosity of children. This school is a place of joy where people from all over the world come together to innovate, be creative, build a community and share new experiences. Children learn by doing, hearing deep and meaningful student discussions, experiencing daily growth as a whole person, and feeling the joy of being part of a vibrant community of learners.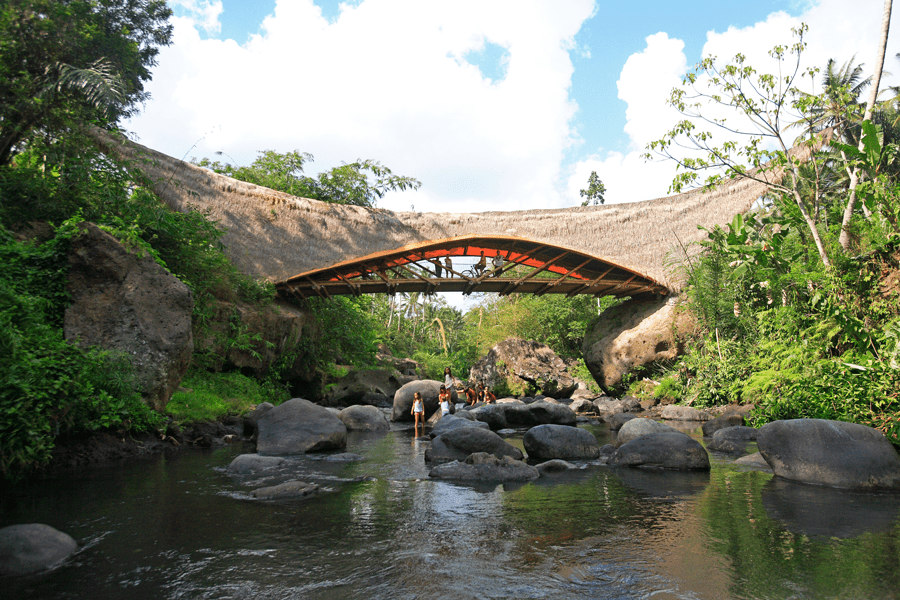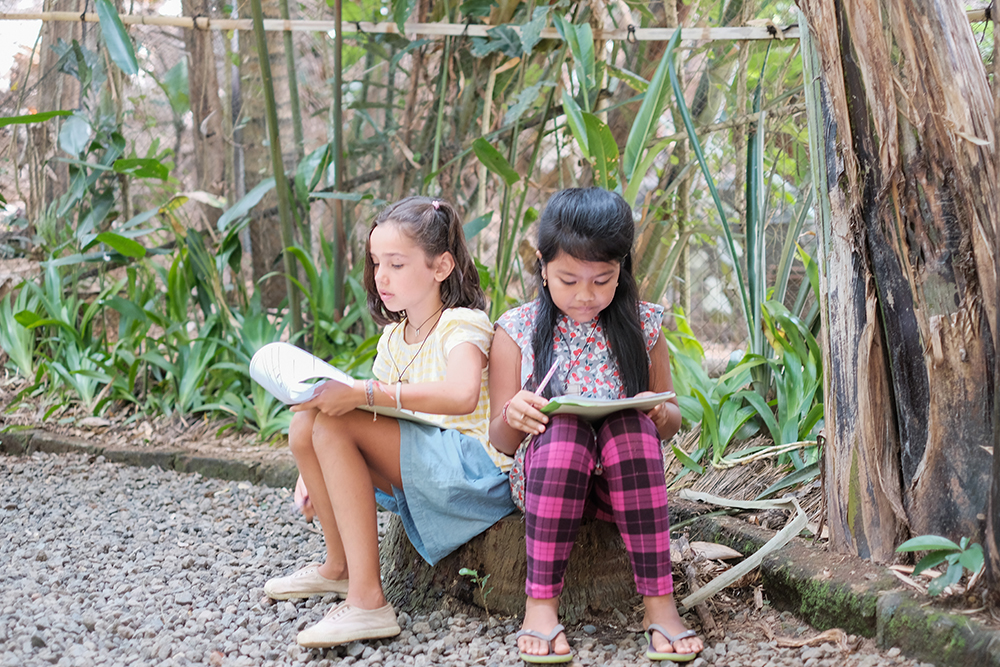 Children represent the future and therefore Arte Viva feels a moral duty to be sustainable very strongly. Our aim is to create a safer world for children in a sustainable way. We strive to give you the best while keeping the world clean! 
19. Use sustainable safety measurements  
Our products, besides respecting the highest safety standards, are Eco-designed and extremely durable.  
Our acoustic cloud is made from 60% recycled material 
The child safe mirrors are 100% recyclable 
The Arte Viva Finger Alerts are exceptionally durable with more than 1 million openings tested.  
Overall, 70% of our products are made locally within a radius of 90km.  
20. Work together with companies who follow the same sustainable vision 
By being more sustainable it is also important to work together with companies who share the same sustainable vision and mission as you. Arte Viva is a company that focuses highly on being sustainable as well as offering the best child safety products.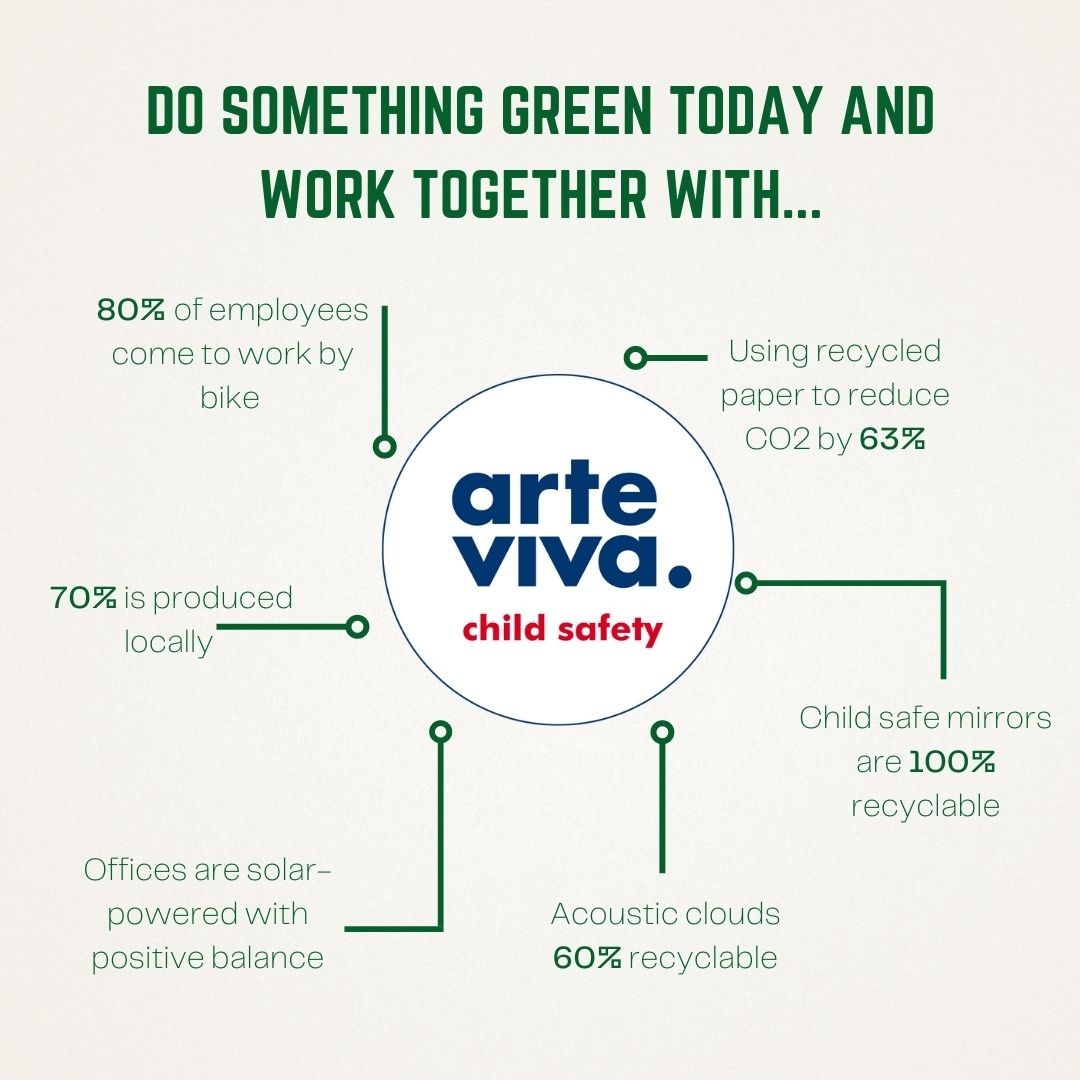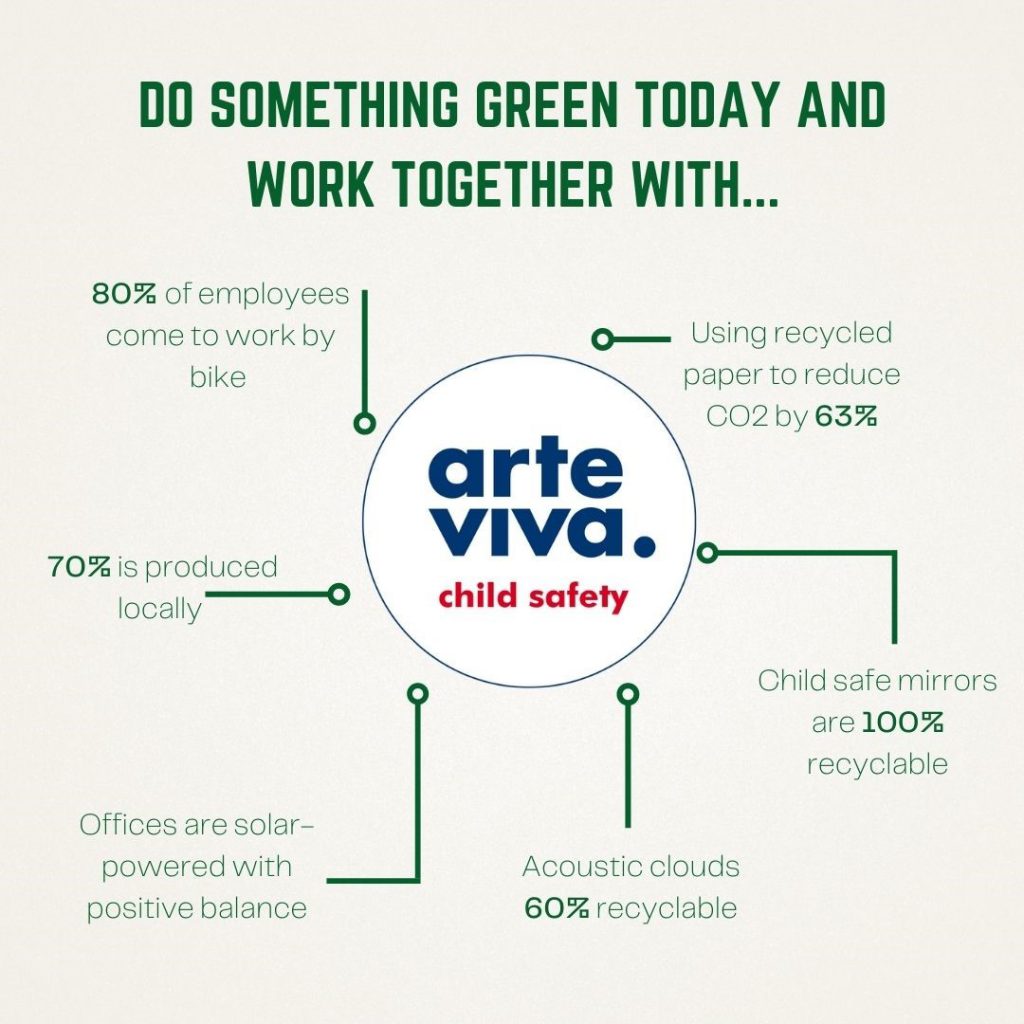 It is time now to think about the next generations and therefore we need to start moving to create a better environment for our children. Read our blog about 17 fun ways to teach children about sustainability. Together we can do that! 
As a guideline, we have created this infographic for your kindergarten and schools to help follow our tips. The infographic to print or to download can be found here.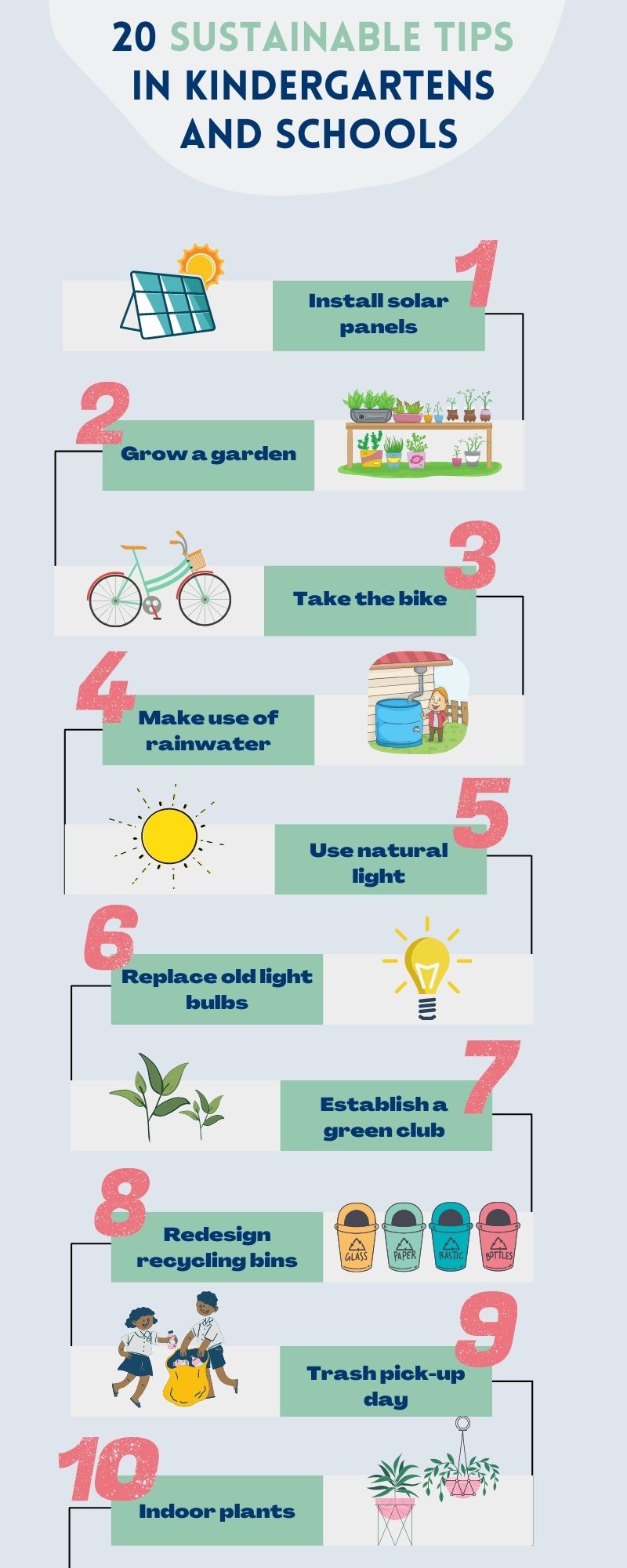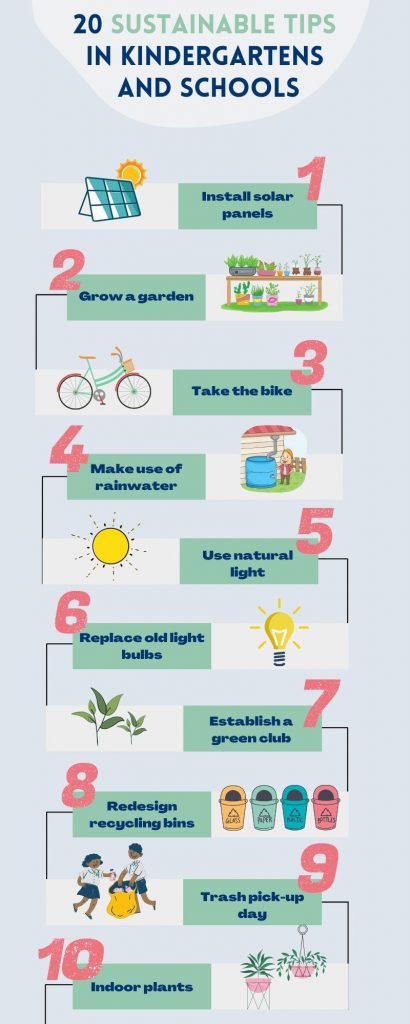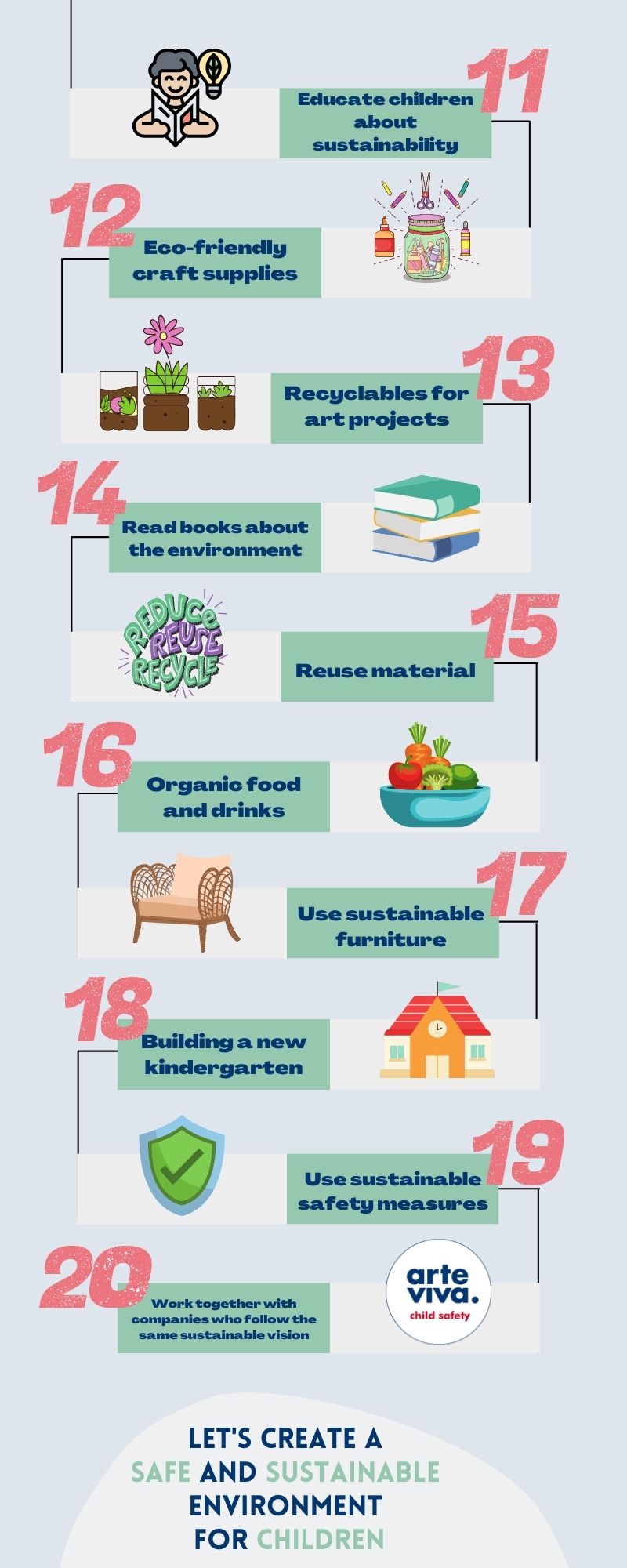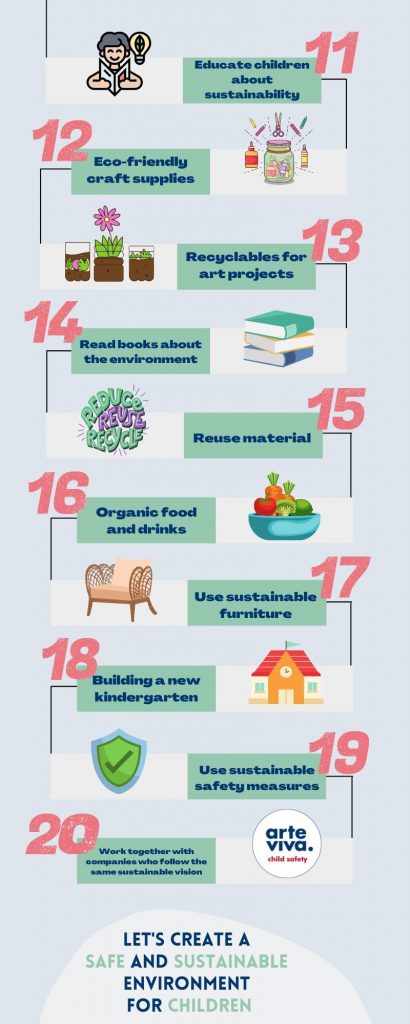 Sustainable themes and activities calendar
To help your kindergarten and school to become more sustainable, we have created a sustainable themes and activities calendar for one year. In this calendar, children will be introduced to a new sustainable theme each month. They will learn more about the environment while having to accomplish activities that will help them understand the theme in a more detailed way. The calendar can be downloaded and printed here.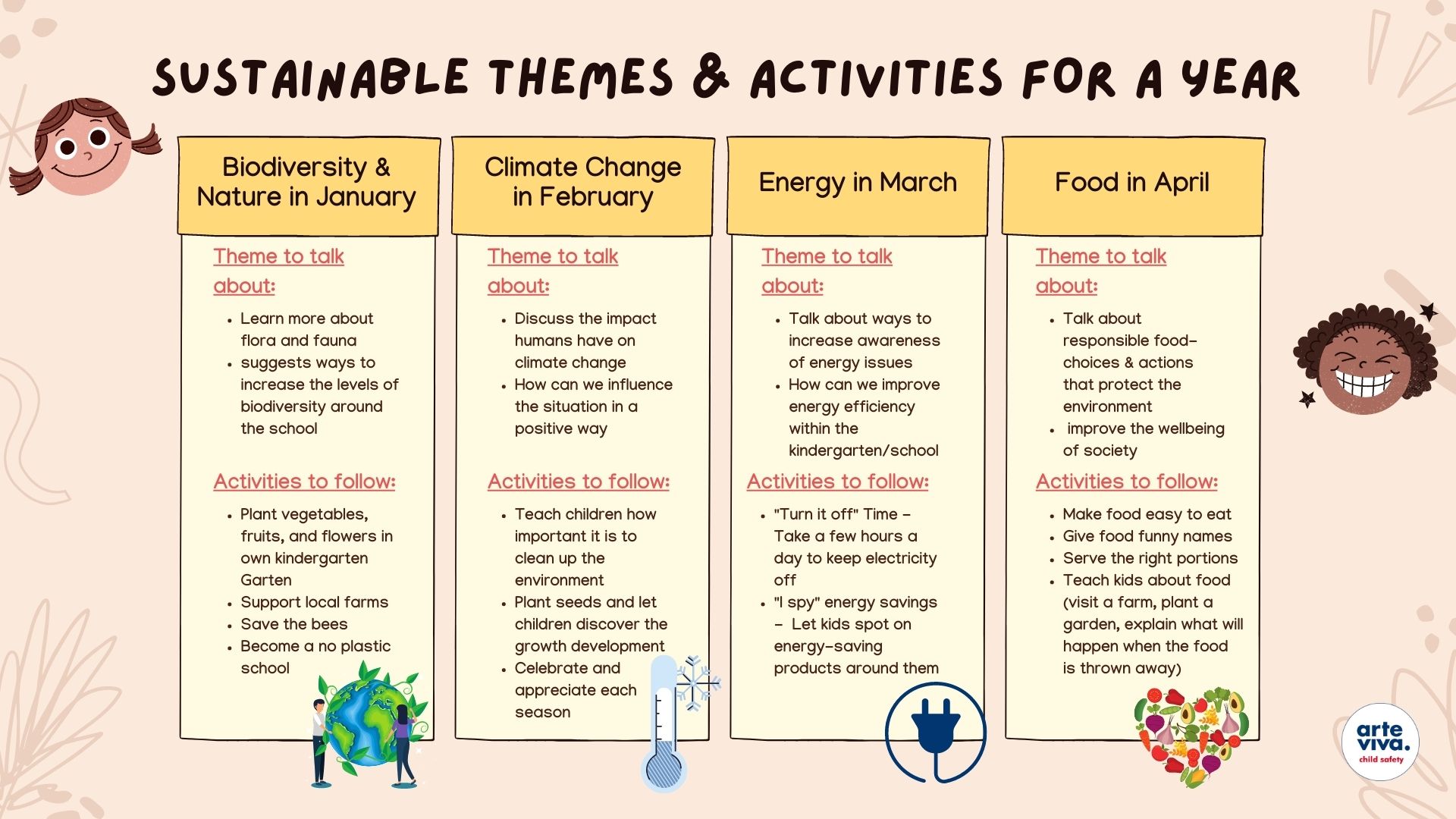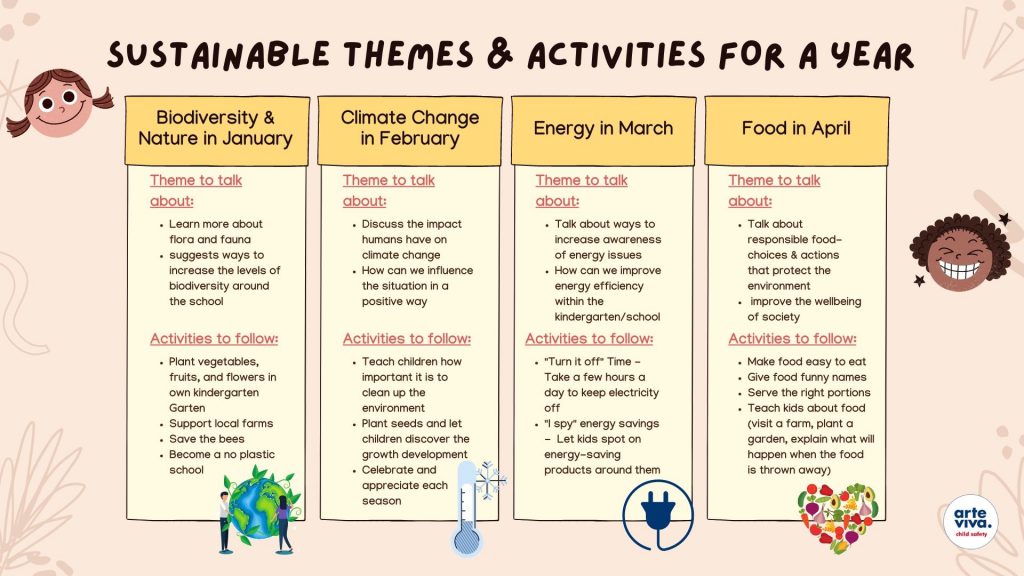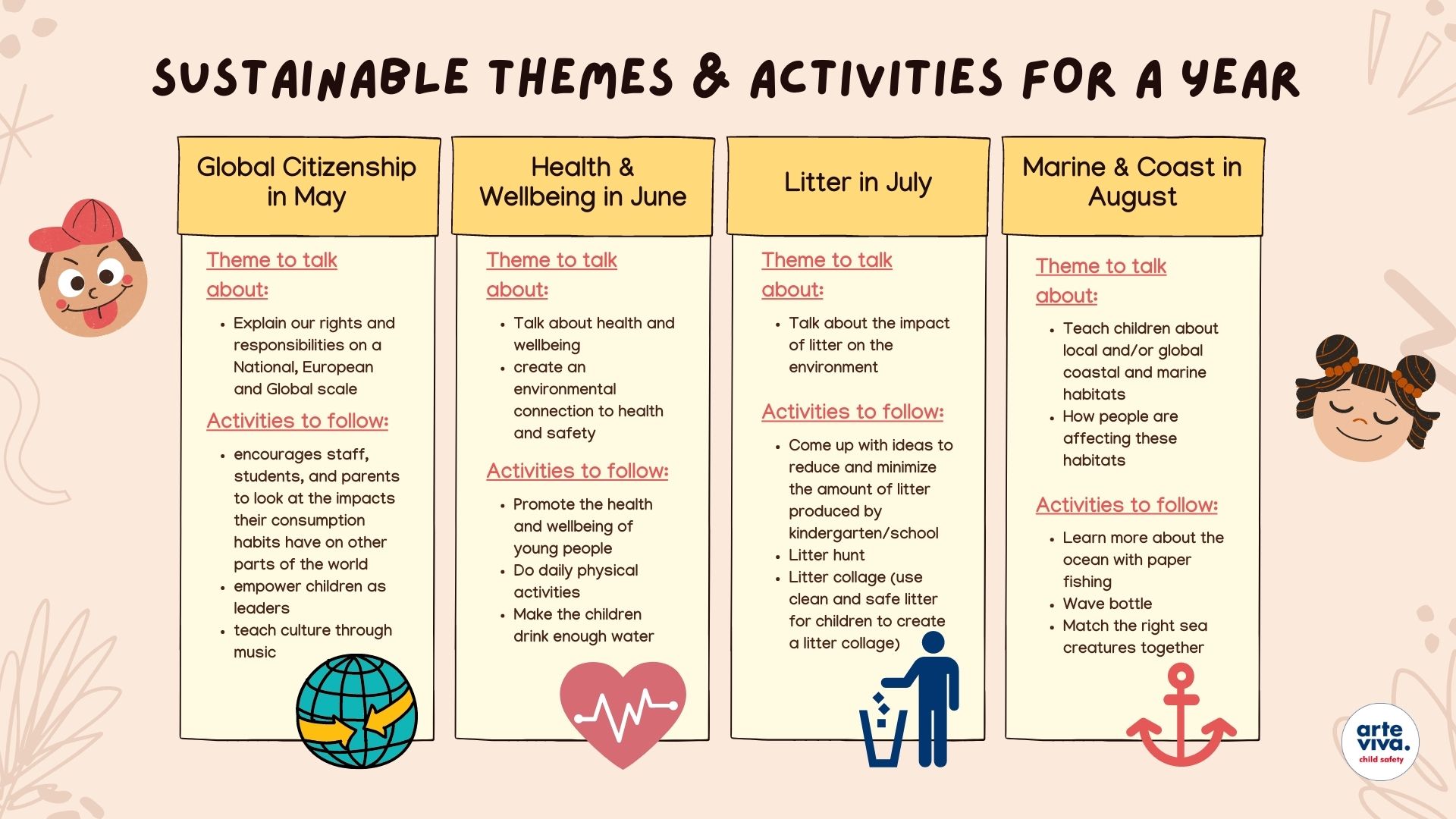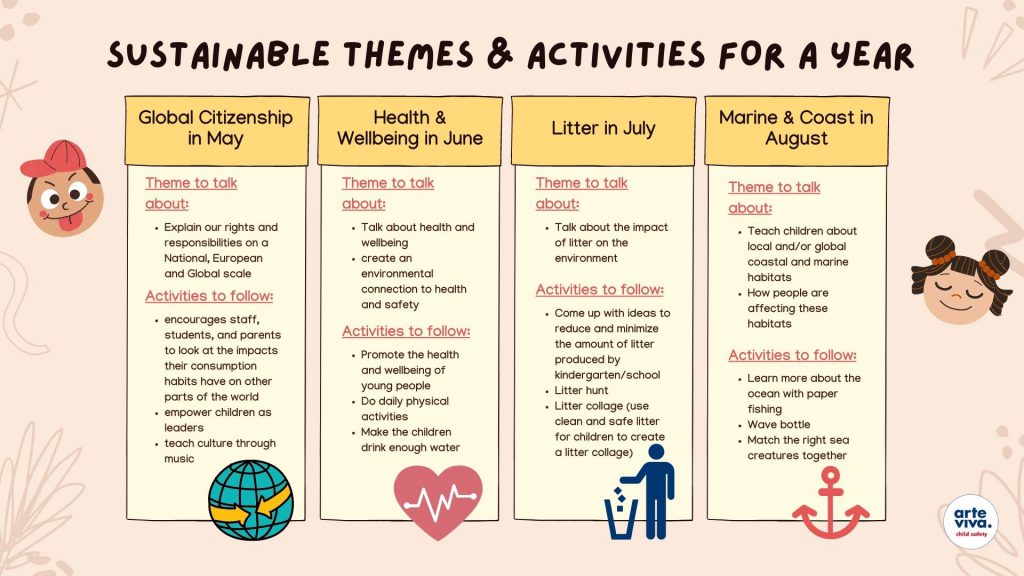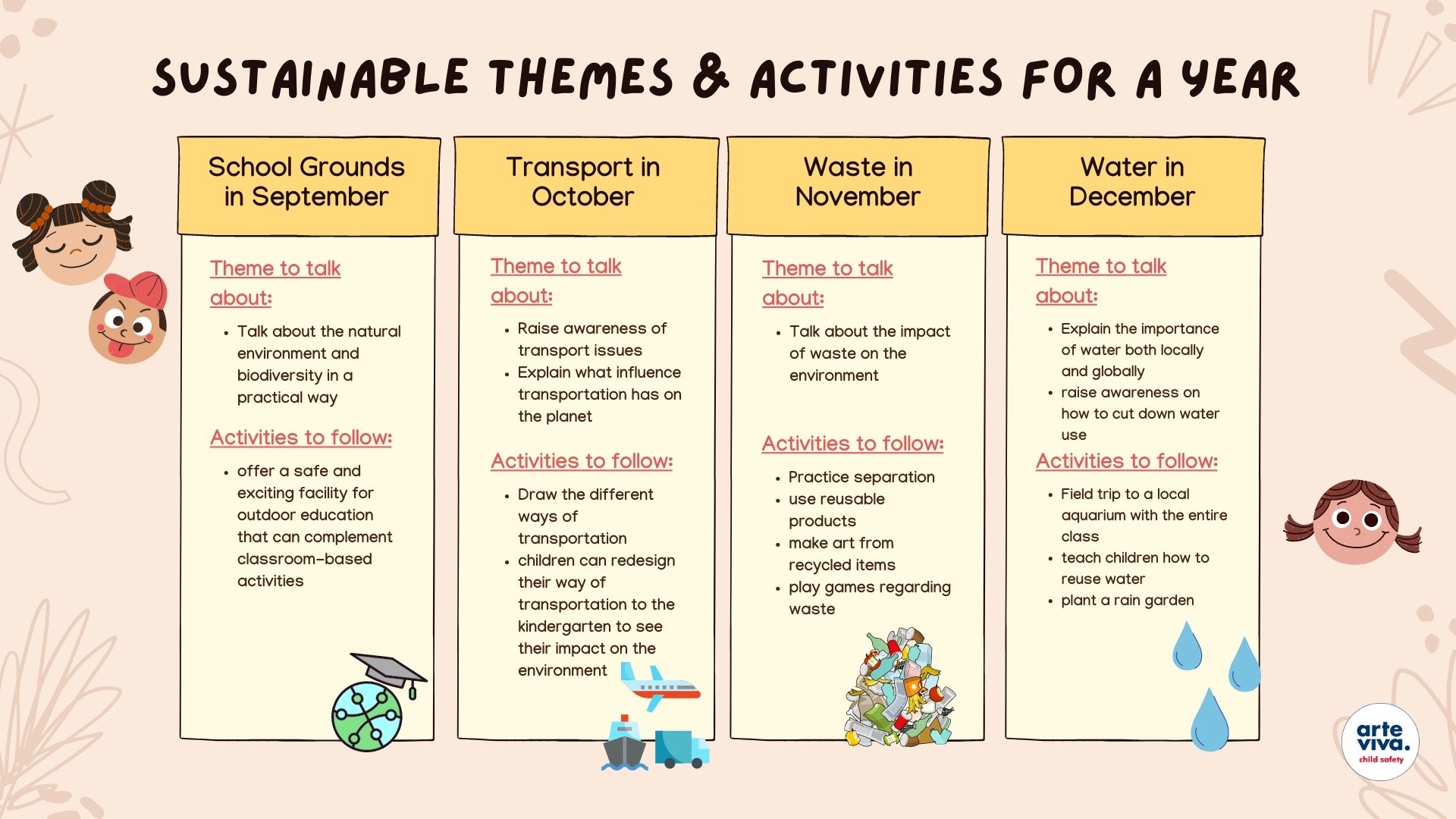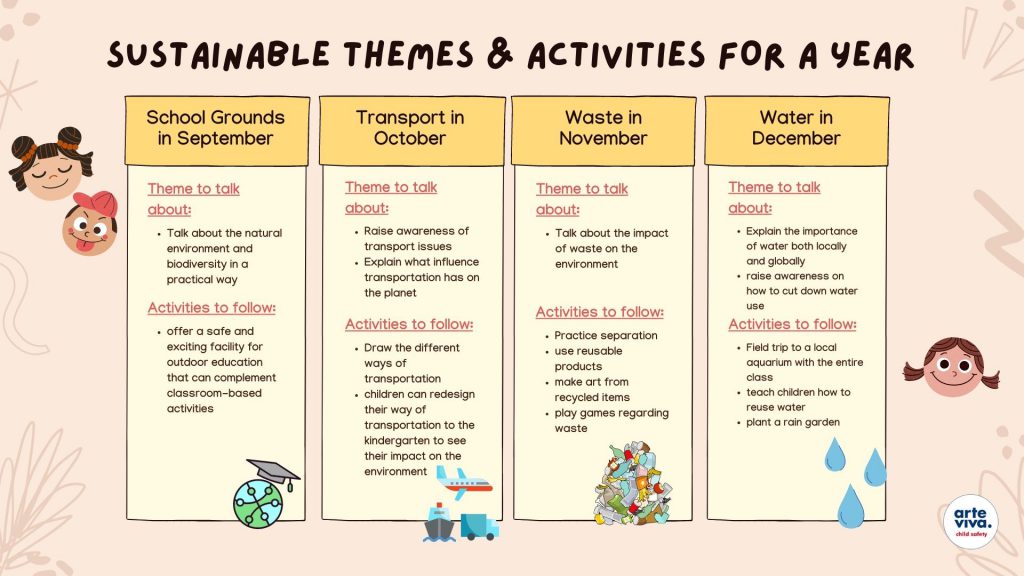 Questions 
To discover more of our products, have a look at our website, feel free to contact us or send us a request. More about our mission concerning sustainability can be found here. We are happy to hear from you!